British Indian Ocean Territory
THE BRITISH Indian Ocean Territory (BIOT) is an archipelago in the INDIAN OCEAN, south of INDIA, about one-half of the way from Africa to INDONESIA. On November 8, 1965, the British government created the (BIOT). The BIOT consisted of the Chagos Archipelago, excised from the British Crown Colony of Mauritius; and the Aldabra and Farquhar islands and Ile Desroches, excised from the British Crown Colony of the Seychelles. Both MAURITIUS and the SEYCHELLES later claimed that these actions were in contravention to the United Nations declaration on the granting of independence to colonial countries. Approximately 1,200 residents of the islands, living as agricultural workers, were relocated by the British government to Mauritius and the Seychelles. Upon independence from Britain in 1968, Mauritius made immediate claim to the Chagos Archipelago and requested the resettlement of all indigenous populations. Subsequently, Britain transferred a number of the BIOT islands to the Seychelles when it attained independence in 1976. BIOT now consists of the six main island groups comprising the Chagos Archipelago.
The largest island of the Chagos Archipelago is Diego Garcia, reportedly named by Portuguese explorers in the 1500s. Portugal's claim lapsed and in the early 1700s the French claimed the islands. They administered them from Mauritius and eventually established copra plantations with slave labor. Britain obtained these islands along with several French claims in 1814. Britain leased the island of Diego Garcia to the UNITED STATES in 1966. The lease is for a 50-year period until 2016, with a 20-year extension available if both parties agree to continuation.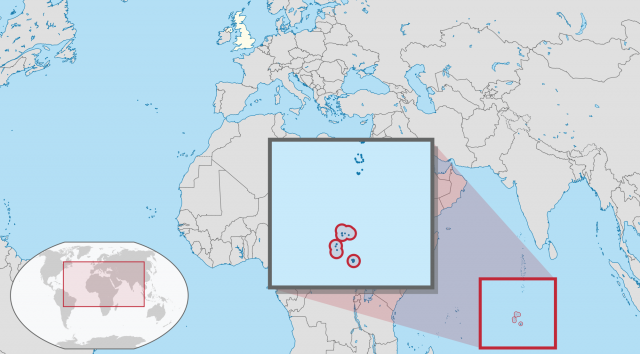 In 1971, the United States began to transform Diego Garcia into a naval support facility that soon included deepwater docks and an expanded runway. In the 1980s, the United States increased its presence on Diego Garcia by building new airfield facilities, and an air force satellite detection and tracking station, initiating long-range bomber operations, improving navigational aids, and increasing the port capabilities. The United States maintains a large amount of ground combat equipment on maritime prepositioning ships (MPSs) stationed in Diego Garcia. The United States has built an extensive military support complex that is operated jointly with the British. The facility and its capabilities are operationally invaluable to the U.S. military doctrine of global force projection and its current military operations in the MIDDLE EAST, South Asia, and throughout the INDIAN OCEAN.
Diego Garcia is a coral atoll with a near continuous land rim of approximately 40 mi (60 km). The Chagos Archipelago is made up of some 50 sand cays scattered along a large shoal area known as the Great Chagos Bank. The whole feature covers some 22,000 square mi (56,995 square km) of the Indian Ocean. A wet tropical climate characterizes the area. Diego Garcia is a near pristine coral atoll ECOSYSTEM.