Cinema
eople in Africa have been watching, acting in, and making movies since the early 1900s. Until the 1950s, films were generally controlled by European colonial powers. The colonial governments oversaw production and decided which movies could be shown to the public. In the years since African nations gained independence, Africans have developed their own cinema with their own directors and actors. Many of their films have gained worldwide attention for their passionate portrayal of social and political issues such as apartheid.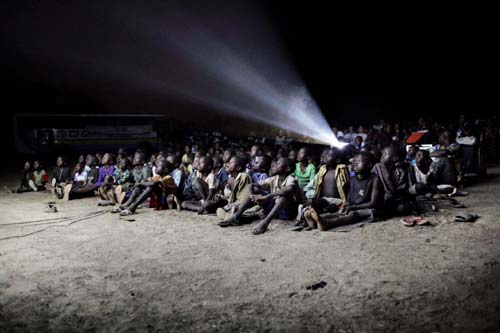 Cinema During Colonial Times
The early history of African film was dominated by movies made by and for non-Africans. Imported films were shown in West African colonies as early as 1900, and soon afterward colonists in South Africa were making their own movies. One of the first very successful African pictures was De Voortrekkers (Winning a Continent), a movie about white South African history made in 1916 by Afrikaner and British producers.
Many American and British moviemakers came to Africa to film stories of adventure and colonial conquest. These were often enormous productions, with crews and leading actors brought from overseas. The story of H. Rider Haggard's British novel King Solomon's Mines was filmed in Africa several times. In the first version in 1918, thousands of ZULU extras acted in a battle scene. For Metro-Goldwyn-Mayer's 1950 version, the film crew traveled for 12,000 miles and five months through four countries. They gathered truckloads of footage of animals and scenery that was used in movies for years afterward. Several foreign actors gained fame for their roles in such films, including African American actors Paul Robeson in the 1930s and 1940s and Sidney Poitier in the 1950s.
Beginning in the 1920s, feature-length documentaries about African people, animals, and geography became popular with foreign audiences. In 1928 Americans Martin and Osa Johnson made Simba: The King of Beasts, a film about lions; in 1959 Henri Storck, a Belgian director, filmed Les seigneurs de la foret (Masters of the Congo Jungle). Documentaries about animals were often broadcast on American television.
More numerous than movies of dramas and documentaries, however, were the many educational and research films produced in Africa during colonial times. Anthropologists and explorers used film to record their research on African peoples and cultures. Colonial officials and missionaries created educational films to teach black Africans "correct" political and cultural views. The viewpoints expressed in such works are now considered outdated and even racist. However, the films remain valuable historical documents that provide unique images of places and peoples.
Occasionally foreign-made films dealt with issues that troubled the colonial powers in Africa. Such films were usually banned by the colony they criticized. Rene Vautier of France was jailed for his 1950 movie Africa 50, an unflattering look at French rule in Ivory Coast. As late as the 1980s, the white South African government prohibited movies that criticized apartheid.
The Rise of African Cinema
North Africa's film industry dates from the 1920s. The first Arab film, Ayn al-ghazal (Gazelle's Eye) was shot in Tunisia by Tunisian Shemama Chicly. His daughter, Hayde Chicly, wrote the script and starred in the picture. In 1927 the first Arab film company was founded in Cairo. Its Layla, made with an Egyptian producer, director, and cast, was the first Egyptian movie. The Egyptian film industry went on to become one of the most productive in Africa, making films shown widely throughout the Arab world.
In addition to creating popular entertainment, such as romance movies, North African filmmakers have also addressed serious subjects. They have documented revolutions and other events that transformed their nations in modern times. For example, Algerian director Mohammed Lakdar Hamina has made several films about the effects of Algeria's revolution and independence from France. One of his bestknown works is Vent de sable (Desert wind), produced in 1982.
Other Africans have also used movies to explore social themes and present them to wide audiences. Senegalese director Sembene Ousmane is considered by some to be the founder of African filmmaking. He produced African-language films dealing with such topics as colonialism, poverty, corruption, and the role of women. Between 1972 and 1982, Ola Balogun of Nigeria made ten feature films, some of which are based on traditional plays of the YORUBA people.
During the 1970s and 1980s, many African filmmakers explored political subjects. Pictures such as Sambizanga (1972) portrayed Angola's revolutionary struggle. Ethiopian Haile Geraima studied film in California before making Harvest: 3,000 Years in his country in 1974. He also produced Sinkofa, a 1993 movie about slavery in Ghana. One of the most famous African filmmakers is Souley-Mane Cisse of Mali. His 1995 picture Waati (Time) is a vision of the African continent as discovered by a young girl. As people throughout the world gain greater appreciation for different cultures, the distinctly African cinema of these artists may reach movie and television audiences everywhere. (See also Popular Culture.)