Dhaka
DHAKA BECAME the capital of the newly formed sovereign state of BANGLADESH in 1971. The city has a tropical monsoon climate with heavy summer rainfall (June through September), about 80 in (203 cm) annually. Summer is hot and humid and winter is dry and mild.
It is located on a tributary of the Meghna-GANGES river system and was founded by the Hindu Sena kings in the 7th century C.E. After a Delhi-based Muslim Sultan's conquest of Bengal, Dhaka remained a regional capital between 1203 to 1764. After the British conquest of Bengal in 1757, Dhaka became a secondary capital as Kolkata (Calcutta) became the capital of both Bengal and British India. As a result of the partition of South Asia in 1947, the present-day Bangladesh became a province of PAKISTAN (from 1947 to 1971) and Dhaka again was relegated to a provincial capital.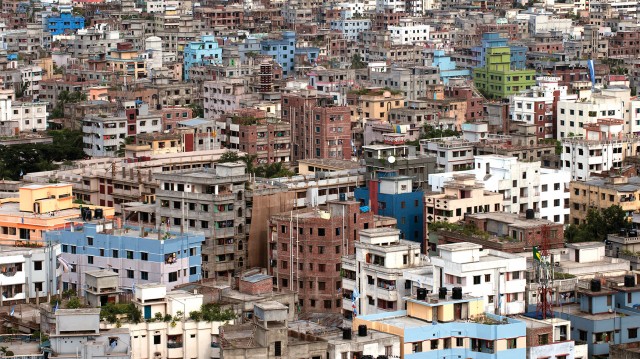 National capital status in 1971 turned Dhaka into a fast-growing dynamic metropolis. From a population base of 104,000 in 1901, and 239,000 in 1941, Dhaka has grown to 12.5 million in 2000, making it the primate city of the country, and 9th most populous metropolis of the world. The very congested and badly maintained old city, heart of the commercial center, has given rise to a typical traditional bazaar city center. Dhaka is one of the most homogeneous cities, as 95 percent of its population speak Bengali and 90 percent are Muslims.
Because of their number, Dhaka is designated as the City of Mosques. Its long history bears architectural imprints from Hindu, Muslim, British, and postindependence periods. A third of modern Dhaka's population live in dire poverty and in slums, though the rich have built buildings of brick and mortar. Dhaka's problems are many: A preponderance of mosquitoes, high level of noise pollution, flooding after heavy rains, jammed streets with three-wheelers, buses, motorbikes, cycle-rickshaws, and pedestrians.
Dhaka prepared a metropolitan plan in 1995 based on a modern approach. This plan addressed "residential provisions of middle and upper income groups, industrial and commercial development and intra-city transportation." The proposed flood abatement efforts include construction of huge retention ponds on the eastern and western fringes of the city. The problem of enacting the plan is a lack of funding.