District of Columbia
AT A GLANCE
Government: The District of Columbia has been the seat of the U.S. government since 1800, and a municipal corporation since February 21, 1871.
Area: 68.25 sq. mi. (177 sq km)
Population: 672,228 (2015)
Electoral votes: 3
U.S. Representatives: 1 (nonvoting)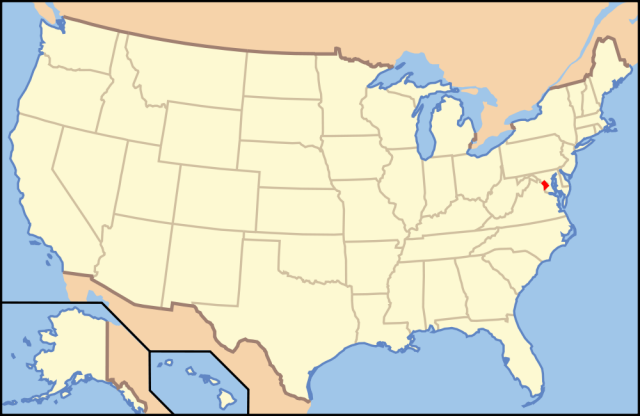 THE PLACE
The city of Washington covers the entire District of Columbia, an independent section of the country controlled by the federal government. Washington, D.C., is part of the southeastern United States and lies between Maryland and Virginia. The Potomac River separates Washington, D.C., from Virginia.
The U.S. Capitol, White House, Smithsonian Institution, Washington Monument, Lincoln Memorial, and many other government and cultural offices are located in northwestern Washington, D.C. Portions of this area are known as the Mall. Other areas of Washington, D.C., are residential.
THE PAST
After the Revolutionary War ended in 1783, Congress looked for a site to build a permanent, independent capital. This plan caused much disagreement because every state wanted to have the nation's capital built on its land. It was decided that the capital should be built on federal land, and an area near the Potomac River was chosen. In 1791, Congress asked President George Washington to select the exact site of the future capital.
Washington chose land that was part of both Maryland and Virginia, and those states agreed to donate it. Washington then hired French engineer Pierre Charles L'Enfant to design the layout of the capital. When work was completed and the federal government moved to its new home in 1800, the commissioners named the city Washington and the entire region the District of Columbia.
Washington developed slowly, and in 1846 the federal government returned the land that Virginia had donated. Washington expanded, however, especially in times of national crisis, such as wars and economic depressions. During the Civil War, the Union stationed large numbers of troops in the city to protect it from Confederate attack. Thousands of refugee slaves also flocked to the city.
Another period of growth occurred in 1917, when the United States entered World War I. During the Great Depression of the 1930s, thousands of government jobs were created. This job boom contrasted sharply with the devastating unemployment suffered in other cities. U.S. involvement in World War II again stimulated Washington's growth.
In 1970, Congress made it legal for the city of Washington, D.C., to have a representative in the House of Representatives who may vote only in committees. In 1973, Congress also allowed the city of Washington to elect its own local officials, including a mayor.
THE PRESENT
Today, government and its related services are the primary industry in Washington, D.C., and most residents work in government related offices. Many government workers live outside the city, in suburban Maryland and Virginia.
The capital's economy thrives on tourism. Millions of visitors are attracted each year to the capital's historic buildings, monuments, museums, libraries, and other cultural institutions. Washington has an extensive public transportation system and is served by three major airports for commercial traffic.