Don River
THE DON RIVER IS one of RUSSIA's major commercial rivers, which, connected to the VOLGA through the 65-mi (105-km) Volga-Don Canal, allows river traffic to sail from Russia's interior ports as far inland as MOSCOW to ports on the BLACK SEA and beyond to the MEDITERRANEAN. The Don River basin also includes its most important tributary, the Donets, which flows through the northeastern corner of the UKRAINE, the most industrially active region of that country, known for its coal and production of steel and heavy manufacturing machinery.
The Don rises near the city of Tula, about 125 mi (200 km) southeast of Moscow. It then flows for 1,220 mi (1,950 km), first southeast to a bend a few kilometers west of Volgograd (coming within 31 mi or 50 km of the Volga River), then southwest to its mouth on the Sea of Azov. It is at this bend where the rivers Don and Volga are joined by the Volga-Don Canal, built in 1952. The canal joins the Don in the Tsimlyanskoye Reservoir, one of Russia's numerous vast hydroelectric projects built in the Soviet era, with a large dam between the towns of Tsimlyansk and Volgodonsk.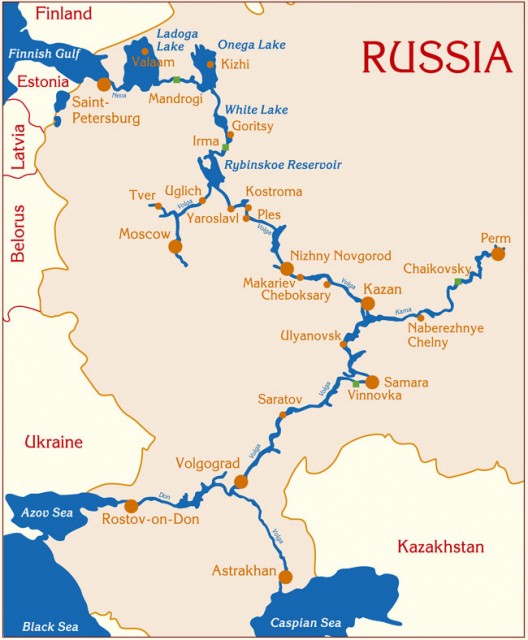 The Don basin's largest cities are clustered below this point (Rostov, Bataysk, Novocherkassk) or along the industrial Donets basin in Ukraine (Kharkov, Lisichansk, Lugansk). Altogether, the Don basin drains 178,894 square mi (458,703 square km), most of it Russia's breadbasket (83 percent is cropland).
Known as the Tanais to ancient geographers, it was the center of Scythian culture in the centuries before and after the Christian era. It is the busiest trade river of south Russia, navigable for 800 mi (1,290 km), bringing Siberian raw materials and manufactured goods from the north to the warm-water ports of the south. Frozen during three months of the year, it is also occasionally hampered by severe spring flooding, but also large volumes of silt that make navigation in its lower reaches treacherous because of shifting sandbanks and shallows. Its entryway into the Sea of Azov, the Gulf of Taganrog, is one of the shallowest bodies of water in the world, with depths averaging a mere 3.3 ft (1 m).