Hong Kong
HONG KONG IS A FORMER British colony that returned to the People's Republic of CHINA on June 30, 1997, and is now officially the Hong Kong Special Administrative Region. Hong Kong consists of the island of Hong Kong and about 200 islands and the New Territories that are on Kowloon Peninsula on the mainland. Hong Kong has a tropical monsoon climate. Its winters are cool and humid. Rain falls from spring through the summer, and autumn is warm and sunny.
Hong Kong covers an area of 421 square mi (1,092 square km) and has a population of 7,394,170 (2003). Its highest point is Tai Mo Shan at 3,142 ft (958 m) and its lowest point is the South China Sea at 0 m. The gross domestic product per capita is $26,000 (2002).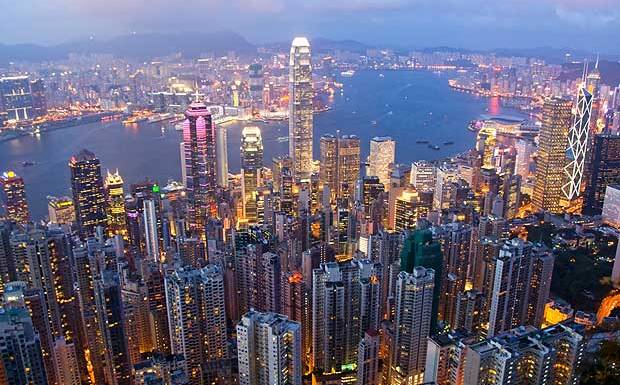 Since the end of British rule, Hong Kong has functioned under the "one country, two systems" relationship with China. According to the Joint Declaration in 1984 reached by Britain and China, Hong Kong, as a special administrative region of China, would have autonomy in its internal affairs and its economic system for 50 years after the end of colonial rule. Hong Kong is a limited democracy that is governed according to the Basic Law approved in 1990 by the National People's Congress. The chief executive is the head of government who is advised by an executive council. Laws are made by the Legislative Council, which is a unicameral body of 30 seats indirectly elected, 24 directly elected seats, and 6 chosen by an 800-member election committee.
Hong Kong began as a small fishing community and a den for smugglers that was of little significance in its early history. Hong Kong was part of a trading network that centered around Canton in the 18th and early 19th centuries. Great Britain became interested in Hong Kong as a commercial base and as a colony for its deepwater harbor. In 1841, the island of Hong Kong was occupied by British forces during the Opium War. By the Treaty of Nanjing in 1842, China ceded the island of Hong Kong to Britain "in perpetuity." In 1860, after the Second Opium War, Britain obtained a 99-year lease on the Kowloon Peninsula, which became the New Territories. Throughout the 19th century, the development of Hong Kong from a barren island to a major Asian port was made possible by cooperation between British administrators and a Chinese business elite.
In 1912, Hong Kong experienced a major influx of refugees who escaped the turmoil in China following the overthrow of the Qin Dynasty, increasing the population from 600,000 in 1920 to 1.6 million in 1941. On December 7, 1941, Japan attacked Hong Kong and occupied it for more than three years, reducing the population to 600,000. With World War II behind them, the people of Hong Kong expressed a desire to participate more in the political process. After the communist takeover in China in 1949, many Hong Kong residents were worried about their future. Hong Kong was again inundated with about 700,000 refugees who escaped from the civil war on the mainland. However, there came to be a quiet understanding between Mao Zedong and the British that China would maintain the status quo because of trade benefits Hong Kong provided and the $5,000 in rent that British paid for the lease in the New Territories.
Between 1971 and 1982, Hong Kong underwent major reforms in housing, education, police, health care, and infrastructure through the leadership of Governor Sir Murray MacLehose. Beginning in 1982, British Prime Minister Margaret Thatcher met with Chinese Premier Deng Xiaoping to discuss Hong Kong's future. In 1984, both countries issued the Joint Declaration specifying Hong Kong's return to the People's Republic of China in 1997 as a special administrative region. The suppression of student protesters at Tiananmen Square caused alarm among many residents of Hong Kong about their relationship with BEIJING. In 1990, the Basic Law, which serves as Hong Kong's constitution was passed by the National People's Congress.
Hong Kong's population is generally homogeneous; 95 percent is Chinese and the remainder is mostly Indian and European. Cantonese Chinese and English serve as the official languages for the territory.
Hong Kong has one of the most developed economies in the world. From its beginnings as a free port, Hong Kong relies almost exclusively on international trade. Having little natural resources, Hong Kong must import its food and raw materials. Hong Kong has extensive investment trade and investment ties with China.