Indiana
KNOWN AS THE Hoosier State, the north central state of Indiana ("Land of Indians") was formed from the Northwest Territory in 1800 and entered the Union in 1816 as the 19th state. Roughly rectangular in shape, Indiana is approximately 270 mi (434 km) north to south and 140 mi (225 km) east to west. The geography of Indiana encompasses 36,420 square mi (94,327 square km), which makes it the 38th largest state in the UNITED STATES. It is 14th in population. Indiana is bounded on the north by Lake MICHIGAN and MICHIGAN, on the south by KENTUCKY, on the east by OHIO, and on the west by ILLINOIS. In addition to Indianapolis, the capital, Indiana's largest cities are Fort Wayne, Evansville, South Bend, Gary, Hammond, Bloomington, Muncie, Lafayette, and Anderson.
Most of Indiana has a humid continental climate, with four distinct seasons, resulting in long, warm summers and cool winters. The southernmost area of the state has a humid subtropical climate, experiencing more frequent rainfall and less extreme temperatures in the winter. Northern Indiana may experience up to 40 in (101 cm) of snow in the winter, but the southern sections rarely receive more than 10 in (25 cm) a year. Temperatures range from highs of 70 to 80 degrees F (21 to 26 degrees C) to lows of 25 to 35 degrees F (-4 to 2 degrees C). The state experiences an annual precipitation rate of around 40 in (101 cm). Tornadoes are likely in the spring.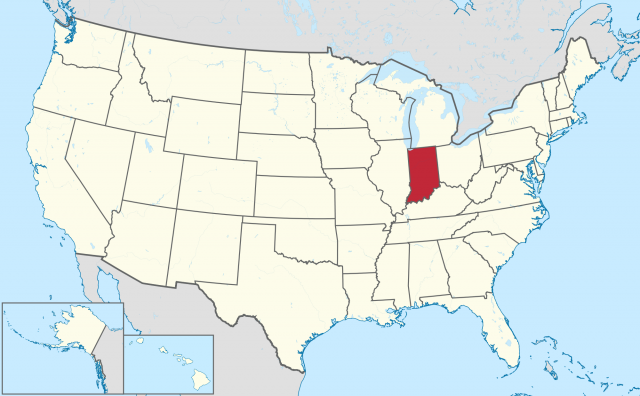 Indiana is divided into three geographic areas: the Great Lakes Plains of northern Indiana, the Till Plains found in central Indiana, and the Southern Plains and Lowlands of southern Indiana. The Great Lakes Plains contain large sand dunes along the shores of Lake Michigan. This landscape varies from flat to gently rolling areas, interspersed with a number of lakes and bogs. The soils in this area are generally acidic grays and browns.
The Till Plain is part of the Midwestern Corn Belt. The acidic gray and brown soils found in the low hills and valleys produce extremely fertile land. The more rugged terrain of the southernmost part of Indiana is located in the Southern Plains and Lowlands, which is covered by steep hills known as knobs. This area is home to a number of well-known caves, such as Wyandotte and Marengo Caves, and mineral springs such as those found in West Baden and French Lick.
Elevations in Indiana range from 320 ft (97 m) above sea level at the Ohio River to 1,257 ft (383 m) above sea level at Hoosier Hill. Bordering on Lake Michigan, Indiana lays claim to approximately 230 square mi (595 square km) of this major water source and to a 41-mi (66-mi) shoreline. Other Indiana rivers include the Ohio River, the Wabash River and its tributaries, the White River and the Tippecanoe River, and the Kankakee River. Saint Joseph and Saint Mary's rivers converge at Fort Wayne in northeastern Indiana. The state's major lakes include Michigan Lake, Wawasee Lake, and Monroe Lake.
Approximately 4.5 million acres of Indiana's landarea are forested, including the Beech-Maple Forest, the Oak-Hickory Forest, the Southern Floodplain Forest, and the Elm-Ash Forest. Indiana forests provide a home to tulip (the state tree), oak, hickory, maple, walnut, ash, spirea, barberry, and mock orange trees. Wildflowers include peony (the state flower), violet, daisy, columbine, gentian, trillium, and various kinds of orchids. Abundant wildlife in Indiana includes whitetail deer, raccoon, opossum, gray fox, coyote, beaver, rabbit, squirrel, skunk, muskrat, mink, and weasel. Bobcat and badger have been identified as endangered species in Indiana. The state's game birds include wild turkey, ruffed grouse, quail, and pheasant. Sparrows, blue jays, wrens, and cardinals (the state bird) are found throughout the state. Indiana is also home to 75 species of endangered birds, such as the peregrine falcon, Kirtland's warbler, and the bald eagle.
As a major industrial center, Indiana specializes in the iron, steel, and oil products industries. Bituminous coal, found mostly in southwestern Indiana, is also a major revenue producer for the state. Manufacturing in Indiana also includes the production of transportation equipment, motor vehicles and equipment, industrial machinery and equipment, electric and electronic equipment, mobile homes, farm machinery, wood office furniture, and pharmaceuticals.
The state's major crops are corn, soybeans, wheat, oats, rye, and nursery and greenhouse products. Other successful agricultural activity revolves around the production of tomatoes, onions, popcorn, fruit, hay, tobacco, mint, and livestock. Oak, tulip, beech, and sycamore are the chief products of Indiana's timber/lumber industry.