Ivory Trade
For centuries ivory—the material of elephant tusks—was one of the most sought-after luxury items from Africa. A brisk ivory trade developed in ancient times, linking hunters deep within the continent to markets around the world. By the 1980s elephants had been hunted nearly to extinction, and most nations banned the ivory trade.
Egyptian records show that Africans were trading ivory before 2200 B.C. It was highly prized by the rulers of ancient Egypt and later by people in the Roman Empire, India, and China. Most ivory came from eastern and northeastern Africa. However, after the A.D. 1100s, demand for ivory rose in Europe, and the hunt for elephant tusks expanded into central Africa. Three hundred years later, Portuguese explorers began trading for ivory along the coast of West Africa.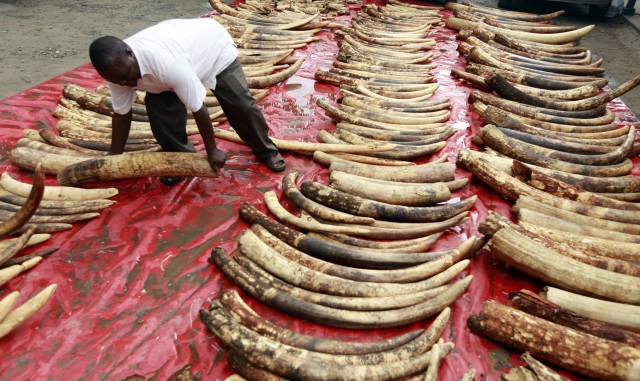 Despite vigorous trade in other regions, East Africa remained the world's chief supplier of ivory. Business flourished in ZANZIBAR and MOZAMBIQUE, where merchants exported tusks to western India and other markets. By the late 1700s East Africa's vast ivory network reached as far inland as the Congo Basin. Some local peoples specialized in hunting elephants and transporting their tusks to the coast.
The ivory trade was often linked to the SLAVE TRADE. African, Arab, and SWAHILI traders led both hunting and slave-raiding parties. The end of the slave trade in the late 1800s, however, did not bring an end to the ivory trade. Exports increased during the next century. Concern grew over the fate of Africa's dwindling elephant herds led in 1989 to an international agreement that placed the African elephant on the endangered species list. The legal ivory trade halted nearly everywhere. However, BOTSWANA and ZIMBABWE insisted that their elephant herds not be included in the ban on trading. Poaching, or illegal hunting of protected elephants for their ivory, remains a concern in many other African nations. (See also Wildlife and Game Parks.)