Kingdom of Swaziland
POPULATION: 1.269 million (2014)
AREA: 6,704 sq. mi. (17,364 sq. km)
LANGUAGES: siSwati and English (both official); Zulu, Afrikaans
NATIONAL CURRENCY: Lilangeni (plural: Emalangeni)
PRINCIPAL RELIGIONS: Christian 60%, Traditional 40%
CITIES: Mbabane (administrative capital), 47,000 (1990 est.); Lobamba (legislative capital), 30,000 (1988); Manzini, Mhlambanyati, Tshaneni, Bunya, Goedgegun
ANNUAL RAINFALL: 35–90 in. (900–2,300 mm) throughout most of country
ECONOMY: GDP $4.413 billion (2014)
PRINCIPAL PRODUCTS AND EXPORTS:
Agricultural: corn, livestock, sugarcane, fruits, cotton, rice, sorghum, tobacco, peanuts, timber
Manufacturing: milled sugar, cotton, processed meat and wood, chemicals, machinery, beverages, consumer goods, paper milling
Mining: iron ore, coal
GOVERNMENT: Independence from Britain, 1968. Hereditary monarchy with membership in the British Commonwealth. Governing bodies: Libandla (legislature) with Senate and House of Assembly; prime minister appointed by the monarch.
HEADS OF STATE SINCE INDEPENDENCE:
1968–1982 King Sobhuza II
1982–1983 Dzeliwe Shongwe (regent)
1983–1986 Ntombi Thawala (regent)
1986– King Mswati III
ARMED FORCES: 2,657 (1983 est.)
EDUCATION: No information on education system; literacy rate 77% (1995 est.)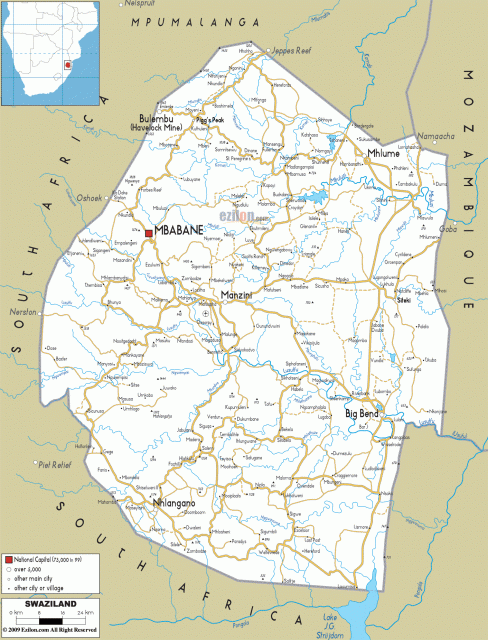 Swaziland is a tiny landlocked kingdom located between SOUTH AFRICA and MOZAMBIQUE. Ruled by a hereditary king, Mswati III, Swaziland is the last absolute monarchy in Africa.
History and Government
Caught in the conflict between the British and Dutch in southern Africa during the late 1800s, Swaziland became a British protectorate in 1903. In 1968 it achieved independence under King SOBHUZA II. A British-style parliament was created at that time, but Sobhuza dissolved it five years later, and in 1979 he established a new parliament with very little authority.
Sobhuza was a shrewd politician and capable ruler. He came to terms with his powerful neighbor South Africa, even though he opposed the racist apartheid government there. He also founded a private fund called the Tibiyo Taka Ngwane that was free from both taxes and parliamentary control. The fund owned a major piece of every foreign investment in the country, forming a powerful base of capital to support the king's plans.
Sobhuza II's death in 1982 set off a power struggle within Swaziland. Mswati III, the king's second-youngest son, was named the successor. His mother ruled until 1986, when he reached his eighteenth birthday and assumed power. Mswati immediately fired the prime minister, dismissed his council of advisers, and appointed new people to his cabinet.
He has been under great pressure to end the monarchy and transform Swaziland into a democracy. However, despite occasional pro-democracy protests and violence, the young king seems determined to retain his ancient title.
The king has control over the government at all levels. He appoints many members of parliament, which consists of a national assembly and senate. Traditional assemblies loyal to the king then choose candidates for a public parliamentary election. The king chooses his cabinet from the assembly, and appoints the prime minister as well.
Geography, Economy, and Culture
Covering less than 7,000 square miles, Swaziland has a very diverse geography. The western portion is mountainous, with a cool, moist climate. Central Swaziland is a gently rolling plateau that receives enough rainfall to permit commercial agriculture. This area is the country's most densely populated region and the source of most of its food. Eastern Swaziland consists of lowlying land with good soil but little rainfall. The Lebombo Plateau, which resembles central Swaziland, stretches along the nation's eastern border.
Swaziland's temperate climate and many rivers make it ideal for agricultural activity. Its main export crop is sugar, but it also produces pineapples and other citrus fruit. Timber from western Swaziland also plays an important role in the national economy. Although the country once had abundant coal and iron ore reserves, these resources have been largely exhausted. Manufacturing, especially the processing of timber and food items, contributes over one third of the country's gross domestic product (GDP). TOURISM is another important source of revenue.
Most of the people in Swaziland speak the siSwati language and share a common cultural heritage. Within this ethnic group, there are several different clans arranged in a hierarchy. The Nkosi Dlamini, the clan of the Swazi kings, dominates the other clans. The members of each clan traditionally assume specific roles in society. For example, women from certain clans, including the Simelane, Ndwandwe, and Nxumalo, are married into the royal clan to serve as queen mothers. People from some other clans, such as the Fakudze and Zwane, become national officials.
Although many Swazi practice CHRISTIANITY, first introduced by Western missionaries in the mid-1800s, they continue to hold traditional beliefs about the spirit world. Ancestors are revered and sacrifices are offered to them to ensure good luck and to prevent misfortune. In cases of illness or other trouble, many people seek help from diviners, who explain how to solve problems caused by angered spirits. Others consult traditional healers, whose remedies often combine the use of modern medicines and ancient religious practices. (See also Colonialism in Africa, Kings and Kingship.)