Pharaohs
Although today the kings of ancient Egypt are referred to as pharaohs, that term was never part of their official titles. The word pharaoh developed from an Egyptian phrase meaning "great house" and was first used to describe the royal palace. Around 1500 B.C. Egyptians began using the word to refer to their king, and by 730 B.C. pharaoh was a term of respect.
Between about 3000 and 30 B.C., Egypt was ruled by a long string of pharaohs—including one queen, Hatshepsut—from 32 different dynasties. The basic Egyptian idea of kingship changed very little during this period. The pharaoh was not only the ruler of the Egyptian people; he was also a link between the human and the divine worlds. The Egyptians identified their kings with the gods, especially the sun and sky gods. In their eyes, the pharaoh was a deity who embodied sacred or magical powers. He was the source of all justice. People believed that the pharaoh maintained order in Egypt as well as a cosmic order or balance that they called ma'at. On a more basic level, the pharaoh owned much of the land and property in Egypt and determined both how it would be used and who would use it. He had the last word over every aspect of life in Egypt, including the lives and deaths of each of his subjects. No one person, however, could attend to every decision involved in administering a kingdom. Pharaohs shared their authority with high-ranking assistants at court and with officials in the provinces.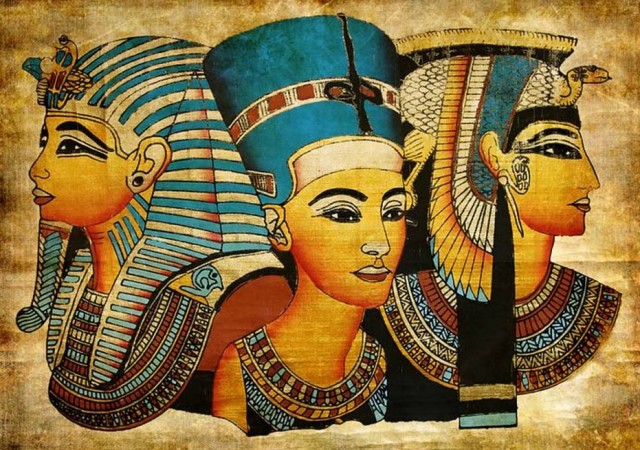 The combination of divine and royal status set the pharaoh apart from all other people. Pharaohs lived out of public view. Often they married their sisters or daughters, who were also thought to be divine. Court ceremonies and religious rituals emphasized the pharaoh's role as a god. Pictures and statues of pharaohs, especially those that showed the kings as warriors defending Egypt, often portrayed the rulers as much larger than everyone else. When a pharaoh died, priests carefully preserved the ruler's body so that he could live on as a god in the afterlife. Some pharaohs were buried in elaborate tombs that they had built for themselves in caves or PYRAMIDS.
Although the Egyptian people spoke of their pharaohs as divine, they clearly recognized the human shortcomings of their rulers. They rebelled against some pharaohs and even assassinated a few of them. Like monarchs in many times and places, the pharaohs of Egypt faced ambitious rivals, palace plots, discontented populations, and enemies they could not overcome on the battlefield. (See also Egypt, Ancient; Kings and Kingship.)