Southern African Development Community
IN 1980, NINE FRONTLINE southern African countries came together as the South African Development Coordination Conference (SADCC) to promote economic stability, increase interdependence, mitigate poverty, and battle the issue of apartheid in SOUTH AFRICA. In 1992, SADCC became the Southern African Development Community (SADC). By 1997, SADC had grown to 14 nations, including South Africa, where apartheid had been abolished. The geography of the SADC nations is varied, but the member nations share a host of problems that are due in part to underdevelopment and mismanagement of resources and to economic dependence on outside forces.
The Declaration and Treaty establishing the community was signed at the Summit of Heads of State or Government on August 17, 1992, in Windhoek, NAMIBIA. The 14 countries are: ANGOLA, BOTSWANA, Democratic Republic of CONGO, LESOTHO, MALAWI, MAURITIUS, MOZAMBIQUE, Namibia, SEYCHELLES, South Africa, SWAZILAND, TANZANIA, ZAMBIA, and ZIMBABWE.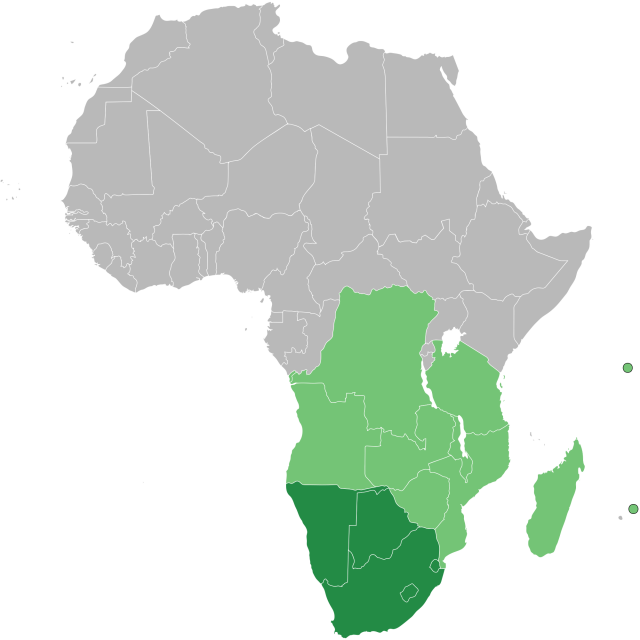 The objectives of the community as stated in the treaty are to achieve development and economic growth; alleviate poverty; enhance the standard and quality of life of the peoples of southern Africa and support the socially disadvantaged through regional integration; evolve common political values, systems, and institutions; promote and defend peace and security; promote self-sustaining development on the basis of collective self-reliance, and the inter-dependence of member states; achieve complementarity between national and regional strategies and programs; promote and maximize productive employment and utilization of resources of the region; achieve sustainable utilization of natural resources and effective protection of the environment; strengthen and consolidate the longstanding historical, social, and cultural affinities and links among the peoples of the region.
The SADC countries encompass an area roughly 2,874,747 square mi (7,445,560 square km), with a population of approximately 195,816,778 people. These countries are rich in natural resources, including coal, chromium, gold, diamonds, emeralds, copper, lithium, nickel, tin, phosphates, talc, manganese, plutonium, uranium, titanium, limestone, bauxite, radium, asbestos, clay, hydropower, natural gas, and forests. The potential for agriculture in the area is varied, including vegetables, fruits, grains, nuts, spices, rubber, quinine, palm oil, cotton, tobacco, coffee, tea, sugarcane, sisal, rice, sorghum, cassava, wood, livestock, and fishing. However, these resources are often vastly underdeveloped or mismanaged. A lack of potable water and severe water shortages pose major risks. The area also experiences wildlife piracy, coral reef destruction, soil erosion, land degradation, DESERTIFICATION, deforestation, and a myriad of other problems.
Resources within the SADC are constantly being drained by extreme poverty, high birth rates, low life expectancy, high infant mortality, moderate literacy rates, and high incidences of HIV/AIDS. In the poorer countries, such as Tanzania, which has a per capital income of only $610, families eke out a living from subsistence farming. Floods, droughts, cyclones, and volcanoes further drain the resources of the SADC countries. In spite of the vast problems in the region, the SADC and outside investors have fostered growth in a number of industries, including mining, transportation equipment, textiles, apparel, machinery, steel, chemicals, beverages, glass, cement, lumber, furniture, handcrafts, fishing, and tourism.