Zambezi River
The Zambezi River is the fourth longest in Africa, after the NILE, CONGO, and NIGER rivers. It runs for 1,678 miles across the southern part of the continent, from ZAMBIA through ANGOLA, NAMIBIA, BOTSWANA, ZIMBABWE, and MOZAMBIQUE before emptying into the Indian Ocean. Along the river's course are many distinctive natural and human-made features.
For 354 miles from its source in northwestern Zambia, the river is called the Upper Zambezi. This stretch of the river is home to the Lunda people, who once lived by hunting but are now mostly farmers. The Luena and Luvale people, who live between the settlements of Chavuma and Zambezi, fish and hunt, using dugout canoes to carry their goods up and down the river highway. Farther along on the lowlying Bulozi Floodplain is the kingdom of the Lozi people, who build houses out of wooden frames covered with woven reed mats. During the rainy seasons when the river rises and floods the plain, the Lozi migrate outward to drier regions. The Upper Zambezi ends in the Caprivi Swamps.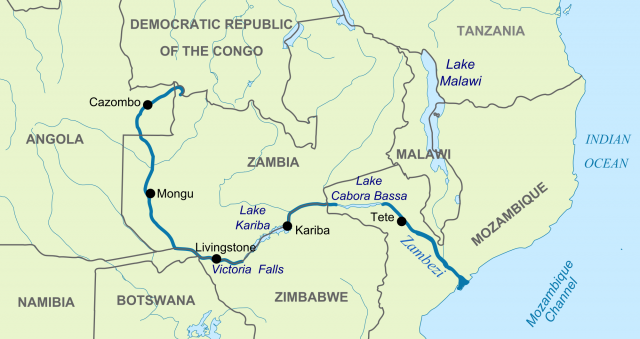 The section known as the Middle Zambezi begins below the swamps at the majestic Victoria Falls, Africa's largest waterfall. More than 35,000 cubic feet of water cascade over the mile-wide falls every second, dropping more than 300 feet at the highest point. Often called one of the world's seven natural wonders, Victoria Falls attracts tourists from all over the world. Immediately below the falls, the river plunges through a series of rugged and uninhabited gorges. After leaving Botoka Gorge, the last in the series, the Middle Zambezi flows into Lake Kariba. This 137-mile-long lake is formed by a huge hydroelectric dam that supplies electricity to Zambia and Zimbabwe. The lake is also known for fishing and tourist industries.
Another important feature of the Middle Zambezi is the Mana Pools area, which was made into a national park in 1963. Home to a large wildlife population, Mana Pools has been named a World Heritage site by the United Nations Educational, Scientific, and Cultural Organization (UNESCO). Beyond Mana Pools, the Luangwa River flows into the Zambezi from the north. The human population along the river increases at this point.
After the river enters Mozambique, it is known as the Lower Zambezi. It passes through another large lake and dam, the Cabora Bassa. Local warfare has prevented the people of this region from taking full advantage of the dam's potential as a fishing area and for producing electricity. From the dam to the coast, much of the valley of the Lower Zambezi is fertile and densely populated. Some of the oldest towns in Africa, such as Tete and Sena, stand on its banks. In peaceful times, the farmers of the Lower Zambezi produce a variety of crops and fruits for trade in Mozambique's cities and towns.