Hausa
The Hausa are the largest ethnic group in West Africa. Since ancient times their people have lived in the region between Lake Chad and the Niger River. Hausa kings ruled their states from large, walled cities and established successful trading networks. Today, the largest group of Hausa lives in NIGERIA, but NIGER, CHAD, and GHANA also have Hausa populations.
Originally, the Hausa worshiped various ancestral gods. Islam was introduced to the region in the late 1200s, but did not really take hold until the early 1800s, when the Muslim FULANI launched a jihad there. The Fulani overthrew the old Hausa states, placed them under Muslim rule, and unified the region. Most of the Hausa became Muslims, and the Fulani rulers adopted the Hausa language.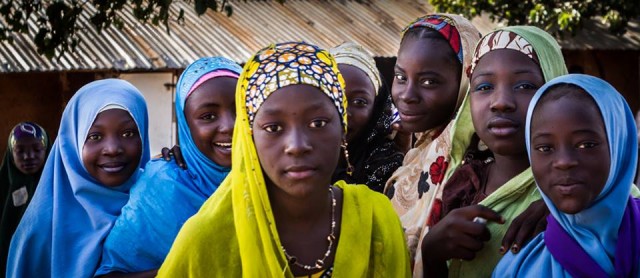 The Hausa have always been known as traders. Over the years they developed weaving, dyeing, leatherworking, glassmaking, and metalworking industries. They sold their products throughout West Africa and along caravan routes across the SAHARA DESERT. The Hausa also established small trading posts at many points in Nigeria, which gave them a wider network through which they could distribute their goods. These posts also gave them access to additional markets. After the Fulani takeover, the Hausa trading network expanded even farther.
The Hausa are also farmers, growing corn, millet, rice, peanuts, and beans. They rely on an irrigation system that uses water drawn from shallow wells or streams. In Nigeria, the Hausa play an important role in politics and have produced a number of political leaders. (See also Ethnic Groups and Identity, Islam in Africa, Trade.)