Johannesburg
Johannesburg is the largest city in SOUTH AFRICA. It was renamed Greater Johannesburg in 1994, when its boundaries were extended to include surrounding suburbs. With a population of more than 5 million people, Greater Johannesburg is growing faster than any other major city in Africa.
Geography and Peoples
Greater Johannesburg is located inland on the Highveld, South Africa's broad central plateau. The inner city, made up of the business district and northern suburbs, straddles a series of rocky hills called the Witwatersrand. Just south of Greater Johannesburg lies the Witwatersrand Main Reef, a layer of gold-bearing rock that stretches for hundreds of miles under the Highveld. The city enjoys a temperate climate, with a wet and dry season and temperatures that usually remain above freezing.
The settlement patterns of Greater Johannesburg remain much as they were during the era of apartheid, which ended in 1994. While many Africans live in the inner city, most whites inhabit the prosperous northern suburbs. The Indian and Coloured (people of mixed descent) populations are concentrated in townships that lie at a considerable distance from the inner city. The South-West Townships, better known as Soweto, are a cluster of towns inhabited by about 1 million Africans. More than 40 of the city's poor, informal, or "shack," settlements are found in Soweto.
Black South Africans make up at least 80 percent of Greater Johannesburg's total population. However, this figure does not include the huge number of Africans from other countries who have moved to Johannesburg. The rest of the population is made up of whites, Coloureds, and Asians, mostly Indians. All 11 of South Africa's official languages are spoken in the city. However, the major spoken languages are Zulu, Tswana, English, and Afrikaans, the language developed by early Dutch settlers.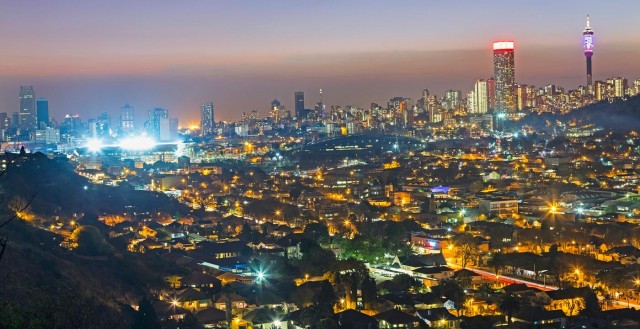 History and Economy
Europeans founded Johannesburg in 1886 after discovering gold nearby. People from around the world—as far as Australia, California, and Wales—flocked to the city to seek their fortunes in the Witwatersrand mines. Poor South Africans and blacks from many African nations came to work in the mines as well. By 1899 Witwatersrand was the world's top gold producer.
Johannesburg became the financial, commercial, and industrial hub of South Africa and remained so even after most of the area's gold deposits had run out in the 1970s. Today, most of South Africa's banks, leading construction companies, engineering, insurance, and commercial and retail firms are located in central Johannesburg. The city houses the nation's stock exchange and the headquarters of its mining companies. A large international airport and an excellent system of roads, highways, and railways serve the urban area.
Greater Johannesburg is an important political and educational center. It is also the capital of Gauteng, the richest province in South Africa. The city has seven daily newspapers and serves as the base for national broadcasting and television systems. Students come to Greater Johannesburg to study at its highly regarded University of the Witwatersrand and the Rand Afrikaans University. The city also has a branch university in Soweto and several technical colleges and teachertraining schools. (See also Apartheid, Cape Town, Cities and Urbanization.)