Kenyatta, Jomo
1888 (or 1889)–1978
President of Kenya
Jomo Kenyatta, the most important African leader in colonial KENYA, served as the country's first president after independence. A member of the GIKUYU ethnic group, Kenyatta was born Kamauwa Muigai, and later baptized under the name Johnstone. After leaving the Scottish mission school he attended as a youth, he changed his name to Jomo Kenyatta.
In the late 1920s, Kenyatta became general secretary of the Kikuyu Central Association (KCA), which fought for black rights in Kenya. He traveled to London to present the complaints of indigenous Kenyans to the British government. The British authorities never granted him an audience. Kenyatta completed his education at the London School of Economics and worked with other Africans in England to promote the civil rights of blacks around the world.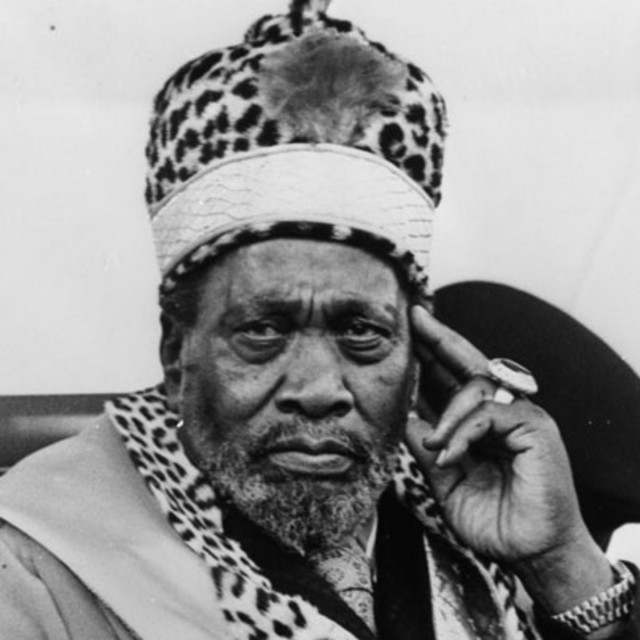 In 1946 Kenyatta returned to Kenya and soon became the leader of a mainly Gikuyu political party called the Kenya Africa Union (KAU). However, younger, more radical members began taking control of both the KAU and KCA. They created the Central Committee, a secret organization that planned activities without consulting Kenyatta. For example, they secretly required followers to swear an oath to take up arms against the colonial government. In 1952 Kenyatta denounced the movement, which was known as MAU MAU. But the government did not believe his statements against Mau Mau and instead considered him the leader the movement. When Kenyatta was arrested along with some 150 nationalist leaders, his popularity among Kenya's black population grew even stronger.
While Kenyatta spent time in jail, Mau Mau waged a four-year guerrilla war against the government. More than 12,000 Africans and some 100 Europeans died in the conflict. Eventually, Britain was forced to allow self-rule in Kenya. Kenyatta was released from prison in 1961, and a year later he became prime minister of Kenya. The nation gained its independence in 1963, and when it became a republic in 1964, Kenyatta won election as its first president.
Early on, Kenyatta launched a program to modernize and unify Kenya under the slogan "Harambee," which brought to mind images of harmony and hard work. In 1969 he outlawed opposing political parties, making Kenya a one-party state. He served as the country's president until his death nine years later.] (See also Colonialism in Africa, Independence Movements.)