Soyinka, Wole
1934–
Nigerian writer
Wole Soyinka is a noted Nigerian writer and political activist. He was born in Ijebu-Isara in western NIGERIA, the son of a schoolteacher. After studying at a university in the city of Ibadan, he traveled to England, where he attended the University of Leeds and earned a degree in English literature.
In 1957 Soyinka moved to London and wrote scripts for the British Broadcasting Corporation. He also wrote plays, several of which were produced in London theaters. His play The Lion and the Jewel concerns two African men competing for a beautiful woman. One is a young schoolteacher who foolishly "Westernizes" himself. The other, an older but wiser man, wins the woman by drawing on African cultural traditions. The play's lesson—the importance of developing new ideas within a framework of traditional culture—has been a recurring theme in Soyinka's work.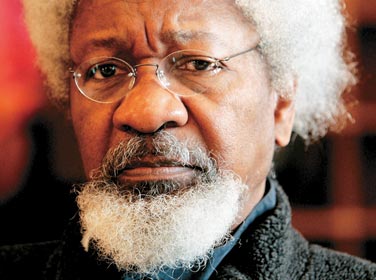 After returning to Nigeria in 1960, Soyinka wrote A Dance of the Forests in honor of Nigerian independence. The play celebrates the end of the colonial era but warns its audience of the dangers of other forms of oppression. It shows Soyinka's mastery of the English language and his commitment to social and political criticism. That commitment later brought trouble to Soyinka, who was imprisoned in the late 1960s for criticizing the government. After his release in 1969, Soyinka traveled abroad, writing prison memoirs, plays, fiction, poetry, and essays.
In 1976 Soyinka returned to Nigeria as chairman of the department of dramatic arts at the University of Ife. He continued to write, founded several theater groups, and expanded his political role. He championed campaigns to improve everyday life in Nigeria, such as by insuring safety on the nation's roads. In 1986 he became the first black African to receive the Nobel Prize for literature. Since that time Soyinka has been an important voice on behalf of individual liberty and human rights in Nigeria. His 1989 novel Isara: A Voyage around "Essay" is a tribute to his family and community. (See also Literature, Theater.)