Aruba
A NETHERLANDS territory in the CARIBBEAN SEA and formerly the A in the ABC Islands, Aruba has come into its own in the past two decades, thanks in large part to aggressive advertisement campaigns on U.S. television. Already prosperous due to oil refineries established by the Dutch in the early 20th century, this advertising strategy aims to make tourism the numberone element in the Aruban economy, long before petroleum resources are used up.
Aruba has an area of 75 square mi (193 square km), and its capital city is Oranjestad. The highest point is Mount Jamanota at 617 ft (188 m) and lowest point is seal level. A population of 70,844 enjoys a gross domestic product per capita of $28,000.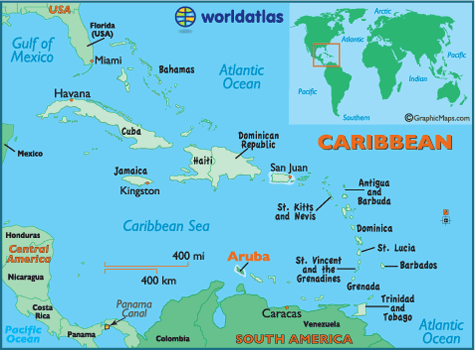 Aruba lies only 15.5 mi (25 km) off the north coast of VENEZUELA and a few miles west of the other Dutch islands of Curacao and Bonaire. The islands became a Dutch colony in 1636 but retained a diverse population of local natives, Dutch, Spanish, Portuguese, and English traders, resulting in the curious language combining all of these elements known as Papiamento. Aruba alone of the Caribbean islands has retained a significant portion of its pre-European population (Arawak), mainly because the islands are too arid to have been developed as commercial tobacco or sugar plantations in the 17th century.
Instead, the ABC Islands became a center of piracy, raiding the rich Spanish galleons as they left the South American ports for Europe and developing as the center of the Caribbean slave trade. Hit hard by the abolition of slavery by the Dutch in 1863, the islands first reinvented themselves as center for the South American gold rush of the 19th century, then as primary refiners of oil from the Maracaibo oil fields in Venezuela in the early 20th century. The first refinery on Aruba was built in 1920s, at the time the largest of its kind in the world.
Unlike the more tropical islands of the eastern Caribbean, the islands off the coast of South America have a more arid climate, where cacti and aloe vera thrive. The islands are outside the hurricane belt and are sunny and dry (less than 25 in or 64 cm of rain per year), which is a draw for tourists, but also creates the problem of finding freshwater for the large amount of visitors arriving each year, mostly from the UNITED STATES and Venezuela. Large water collection facilities have been set up on Aruba to convert seawater to drinking water, and in the process, this has created a subindustry of salt production. Tourism is an appealing alternative to dependence on Venezuelan oil, which began to diminish after Venezuela opened its own refineries in the 1980s.
Resenting the dominance of its larger neighbor, Curacao, Aruba seceded from the Netherlands Antilles in 1986 and became a separate, autonomous member of the Kingdom of the Netherlands. Movement toward full political independence was halted at Aruba's request in 1990.