Mumbai (Bombay)
BOMBAY, RENAMED Mumbai in 1995, is a city in western INDIA and the capital of the Indian state of Maharashta. With its three totally computerized stock exchanges that handle 70 percent of the country's stock transactions and manufacturing (particularly in textiles, which employs 11 percent of India's factory workers), Mumbai is the most important economic center of South Asia. It is India's largest port in tonnage handled.
Mumbai is not only the largest city of India, with an estimated population of 16 million (2000), but is also the fifth-largest metropolis in the world. Mumbai is projected by the United Nations (UN) to be the third-largest city by 2015, when its population will reach 22.6 million.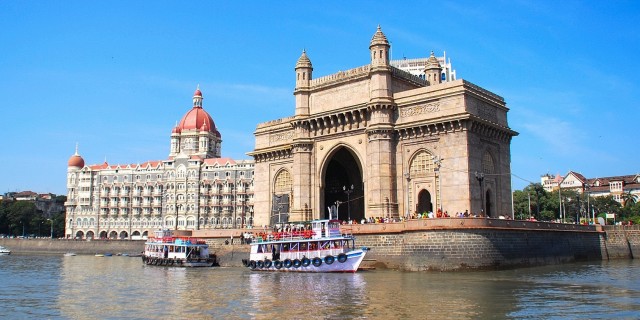 The old city of Bombay, an island, has a lowland terrain and has gone through several stages of reclamation. It forms the southern tip of Greater Bombay. The main part of the metropolis is separated from mainland India by a narrow water body; to the west lies the Western Ghats mountain range. Located south of the TROPIC OF CANCER and falling in the monsoon climate zone, its annual rainfall averages 84 in (213 cm), mostly from June through September. Mumbai's average January temperature is 66 degrees F (19 degrees C) and the May average is 81 degrees F (27 degrees C).
THE CITY'S HISTORY
Historically, Bombay was a fishing village ceded to Portuguese in 1534 by the regional ruler, Bahadur Shah. In 1661, it was transferred to the British as a wedding gift to King Charles II of England, when he married the sister of Portuguese king. The British king then leased the territory to the newly formed East India Company. A fort built in 1717 became the main center of colonial activity. The center of the fort had three radiating roads (still in existence) leading to the city's Apollo, Church, and Bazar gates. When congestion increased considerately within the fort, settlements spread outside the walls. The wall was torn down in 1861.
Mumbai is the most diverse Indian metropolis: 67 percent are Hindu, 14 percent Muslim, 7 percent Sikh, 6 percent Christian, 4 percent Jain, and 4 percent Buddhist. Though English is the language of the elites, 42 percent are Marathi speakers, 18 percent Gujarati, 11 percent Urdu, 10 percent Hindi, 3 percent Tamil, 3 percent Sindhi, and 2 percent Punjabi. The city has several masterpieces of colonial architecture: Victoria (Chatrapati Shivaji) Terminus, the Municipal Building, and the University of Bombay. It is a leading educational center; the University of Mumbai was founded in 1857 and several colleges, including medical colleges, are also prevalent.
Mumbai makes the largest number of films compared to any other city of the world. The metropolis is rightly called "Bollywood, the star machine of India."