Sir Henry Capel, Princess Augusta, and the Royal Botanic Gardens at Kew
Britain's principal botanical garden occupies more than 300 acres (121 ha) beside the River Thames at Kew in southwest London. It became a botanical garden in 1752, so what is now the Royal Botanic Gardens, Kew, is of much more recent origin than most of Europe's botanical gardens and it is not the oldest botanical garden in Britain; Oxford Botanic Garden was founded in 1621.
Kew Gardens consists of many specialized gardens and two outstations that together probably contain the world's largest and most diverse collection of living plants. It is also a partner in the Millennium Seed Bank Project that aims to store seeds from 10 percent of all the wild plant species in the world, and its herbarium holds about 7 million specimens, including about 350,000 holotypes. In 2003 the United Nations Educational, Scientific and Cultural Organization (UNESCO) designated Kew Gardens a World Heritage Site. The following illustration shows that much of the area is laid out informally. The large glasshouse near the top of the picture is the Temperate House, the largest surviving Victorian glass structure.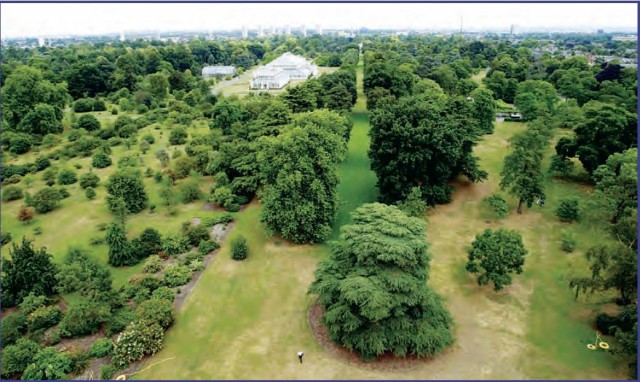 Although Kew Gardens is today a center for botany and plant conservation, in the second half of the 19th century the emphasis was a little different. The gardens had been in decline during the early 19th century and by 1831 they were continuing to receive plants but were no longer sending out plant hunters to collect them. That situation began to change in the 1840s. Kew Gardens began to expand its scientific research, sending seeds, plants, and advice to the colonies, and when a rail line linked Kew to central London the gardens began to attract visitors. New scientific knowledge was accumulating rapidly, and there was great interest in putting it to practical use. Britain then controlled a very large empire, and the application of botanical knowledge amounted to identifying the plants that could be grown most profitably in a particular colony and ensuring that they were planted there. Kew was used to store, grow, study, and develop plants with commercial potential that could then provide the basis for enterprises in the colonies.
That is not how the gardens began, however. They were originally a pleasure garden. In the 17th century, Kew Park belonged to Sir Henry Capel, a public servant who held important offices, including Lord Justice of Ireland (1693) and Lord Deputy of Ireland (1695). In 1692 he was promoted to become lord capel of Tewkesbury. Kew Park was his house and around it Capel created a garden of exotic plants. Frederick, prince of Wales (1707–51), later leased the house, renamed it Kew Palace, and spent much of his time there. The palace was demolished in 1802, but an adjacent building bought by George III (1738–1820) is now called Kew Palace.
After Frederick's death his widow, Princess Augusta of Saxe-Gotha (1719–72), the dowager princess of Wales, inherited the palace and its garden—the city of Augusta and Augusta County, Georgia, are named in her honor. Augusta greatly expanded Capel's 10-acre (4-ha) garden. Her written instructions to the head gardener were to: "compleat all that part of the Garden at Kew that is not yet finished in the manner proposed by the Plan and to keep all that is now finished." John Stuart, the earl of Bute (1713–92), a former prime minister and friend of Frederick, advised Augusta to have a garden containing all the plants on Earth. The attempt to achieve this marks the point at which Kew Gardens began to become a true botanical garden, and 1752 is given as the official foundation year of the Royal Botanic Gardens, Kew.
Bute also recommended the Scottish architect Sir William Chambers (1723–96) to design the buildings. Chambers disliked the style of landscape gardening developed by Lancelot Brown, who had designed nearby Richmond Gardens for George III, and he sought to reflect the excitement educated people were experiencing as explorers described to them the architecture and cultures of Asia. Chinese styles, known as chinoiserie, were especially fashionable in the middle of the 18th century, and it was in 1762, during Augusta's ownership of the gardens, that the imitation octagonal, 10-floor Chinese pagoda was completed, originally with a Chinese dragon at each corner of the roof.
Kew Gardens retain the royal in its official name, but it is now controlled by a board of trustees on behalf of the British government's Department for Environment, Food, and Rural Affairs.