Kosciusko, Mount
MOUNT KOSCIUSKO (also spelled "Kosciuszko") is the highest point (7,310 ft or 2,228 m) in mainland AUSTRALIA. Named after the Polish military leader Thaddeus Kosciuszko (1746–1817), the mountain is a core component of the Kosciuszko National Park in the state of New South Wales. One of the Australian Alps national parks, the park is a UNESCO (United Nations) Biosphere Reserve. It contains six wilderness areas, and its alpine and subalpine areas contain herb fields, bogs, feldmarks and plant and animal species found nowhere else in the world. The park is also home to the headwaters of Australia's biggest river system the Murray-Murrumbidgee, as well as several glacial lakes, including Blue Lake, which is also a wetland reserve.
Kiandra, in the north of the park, was the scene of one of the shortest gold rushes in Australia. The discovery of gold in 1859 led to a sudden influx of goldseekers, so that by early 1860 there were about 4,000 people in the town, which had 25 stores, 14 hotels, and a jail. After 1861, once the rush was over, the population stabilized between 200 and 300. Kiandra is now a ghost town and a heritage attraction along with a number of other historic huts and homesteads that have become conserved as part of the cultural heritage of the region.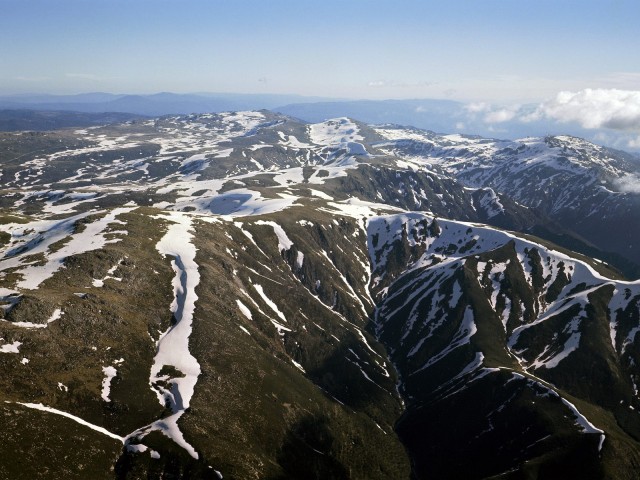 The first proposals to protect Mount Kosciusko and the surrounding regions were developed in the 1930s by the Sydney Bushwalking Club and the National Parks and Primitive Areas Council (NPPAC). In 1935 and 1936 the NPPAC exhibited a plan for the reservation of the region in Sydney. The proposed park was designed for the special purposes of water conservation, wildlife propagation, and public recreation of various kinds, including trail riding, recreational walking and motor camping. Despite the enthusiasm of the NPPAC for the conservation proposals, the main force for its eventual acceptance was more utilitarian conservation notions of the need for irrigation water, the production of hydro-electricity and soil protection.
On April 19, 1944, the Kosciusko State Park Act was assented to by the New South Wales Parliament. Besides the protection that the act gave to the Kosciusko region, it is significant for two reasons. First, it was the first national park in New South Wales that was provided with security of tenure through permanent reservation that could be revoked only by a special act of parliament. Second, it provided for the establishment of a primitive (wilderness) area. Despite its conservation significance, the park served as the core of the Snowy Mountains Hydroelectric Scheme which was completed in 1972. The scheme left an extensive road network and lakes in the park that is now heavily used by tourists.