Elburz Mountains
THE ELBURZ (or Alborz) Mountains are a narrow mountain range that curve along the southern shore of the Caspian Sea in the north of IRAN. From west to east, the range measures about 600 mi or 970 km long. The Elburz range forms a climatic barrier between the Caspian and the Central Iranian Plateau. The northern side receives a good deal of snow and rain and is blanketed by lush forests and a fertile coastal plain. The southern side, in stark contrast, has few trees and is characterized by barren brown slopes and desert below.
The Elburz Mountains and their neighboring range to the east, the Kopet Dag, were originally volcanic. They retain the verticality typical of this origin and rise almost as a sheer wall from the southern shores of the Caspian Sea. As relatively recent formations, the Elburz range is among the highest in the region and includes Iran's highest point, Damavand (18,934 ft or 5,771 m). Elburz was important in Persian mythology as a remote resting place of heroes and gods. The abrupt south face of Mount Damavand (Demavend, or Dem Avend Kuh) towers over the city of Tehran. Other highest peaks are Alamkuh and Takht-i-Suleiman, both above 14,850 ft (4,500 m). The average peak height is 9,000 ft (2,730 m).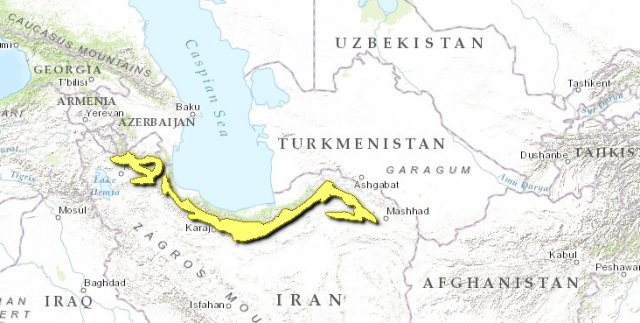 Numerous subordinate parallel ridges enclose fertile valleys. The main navigable river that passes through one of these and into the CASPIAN SEA is the Kizil Uzen, which joins with the river Shah south of the range, then cuts a gap through the western end of the range. This gap divides the Elburz Mountains from the Talish Mountains to the north. On the northern side of this gap, the combined rivers are known as the Safid in the few kilometers before it reaches the sea. Smaller seasonal rivers that drain off the southern slopes of the Elburz disappear through evaporation in Iran's northern Salt Desert. At the foothills of the Elburz is the most significant Iranian port on the Caspian, Bandar-e Anzali, the center of the Iranian caviar industry. It is connected to the larger city of Rasht, the terminus of rail and oil lines. At the other end of the range, the city of Bandar Torkoman lies near the frontier with Turkmenistan and has long been a trade and communications ENTREPOT between the MIDDLE EAST and Central Asia.