Lop Nor
ALSO SPELLED Lob-Nor, Lop Nur, and Lop Nuur, this name invites confusion as it has been applied to a lake (actually two), a village, and a region in eastern XINJIANG province (CHINA). Lop is also the name of a "great desert" and a "large town" that Marco Polo mentioned and Faxian described. The city of Lop was well located at the center of a network of commercial roads leading to China proper, Tibet, and Turkestan. Caravans used to rest for one week in Lop before they undertook a one-month-long crossing of the desert. The SILK ROAD merchants sought to avoid the shorter but hazardous route through Lop. Only the bones of those who died during sandstorms helped travelers orient themselves though the immense plains of the Lop desert.
Some 217 mi (350 km) away from the Lop Nor Lake, Chinese maps show a city named Lop Nur (or Yuli) on the Konqi River that feeds the lake. "Lop" designates also a village in Kara Buran, the southern basin of Lop Nor Lake. Curiously, the Mongoliansounding name "Lop Nor" is not in use among the Lopliks, the Turkish people who inhabit the region. They employ the term Lop for the area that stretches from the Ughen Daria River to the city of Charkhlik. The Russian geographer Prschevalskij would have applied the name of the region to the lake (then desiccated) by mistake. Transcribed Luobu bo in Chinese, Lop Nor Lake used to be one of the terminal lakes of the Tarim River.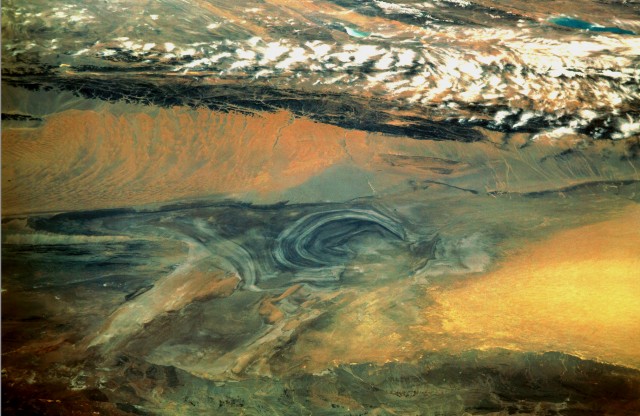 The Swedish explorer Sven Hedin called Lop Nor a "wandering lake" because the fluctuations of the Tarim have created two terminal lakes that are alternatively full and empty. When the river flows east, the Lop Nor fills up; when the river flows south, another terminal lake, the Kara Koshun, receives its waters while the Lop Nor dwindles. Dam and irrigation projects have severely altered the water supply of the Tarim-Konqi system to the entire lake area during the 20th century. Between 1921 and 1952, Lop Nor Lake covered 926 square mi (2,400 square km). The lake has been totally dry since 1964. All the other terminal lakes disappeared after 1972, when the construction of a large reservoir near Tikanlik, China, was completed.