Lewis and Clark
IN 1804, MERIWETHER Lewis and William Clark began an expedition across the newly acquired LOUISIANA PURCHASE territory. These two army captains were chosen by the American president, Thomas Jefferson, to explore new land the UNITED STATES had purchased from FRANCE one year earlier, and to find a direct water route across the nation. For a little over two years, Lewis and Clark led their corps through some 8,000 mi (12,800 km) of unexplored lands, acquiring scientific samples, creating maps, and conveying to the local Native Americans that an acquisition of their territory by the United States had just occurred.
The idea of an expedition into the Louisiana Purchase territory began in early 1803 after approval by the U.S. Congress. Lewis, the personal secretary and friend of Jefferson, was chosen to lead the expedition. Lewis entered the army in 1794, where he served in the Frontier Army and rose to the rank of captain. He possessed quality leadership, scientific, and cartography skills, which contributed to the goals of the expedition. In June 1803, Lewis wrote a letter to his friend, Clark, expressing his desire to lead the expedition with him, as well as to recruit volunteers. Lewis had previously served under Clark during the latter half of the 1790s, and he viewed Clark as an able-bodied and highly intelligent leader.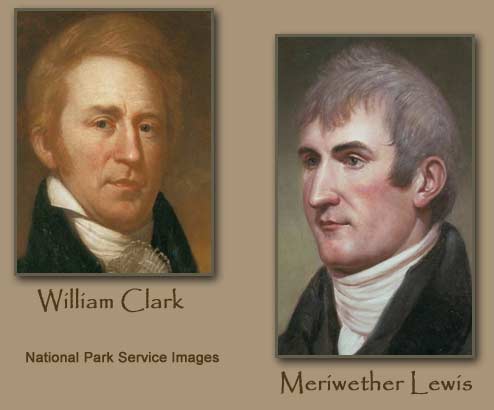 Clark accepted the proposal, and in the middle of October 1803, he met Lewis in Clarksville, in the Indiana territory. The two men began preparations and enlisted men for their new Corps of Discovery. Two months later, the crew was in St. Louis, MISSOURI, making final preparations for the journey. After a winter of training their corps and stocking up on goods and materials, Lewis, Clark, and the Corps of Discovery embarked on their exploration on May 14, 1804. Lewis and Clark proved to be adept at leadership, and each used individual skills to the advantage of the group. Lewis was the planner and scientist. He proved his strength and stamina when he saved himself from a fall off a cliff by wedging his knife into a crevice and breaking the fall. He cured a case of accidental poisoning through a homemade remedy. Lewis even survived an accidental gunshot wound from one of the corps members.
Clark proved to be a fine boatman and navigator as well as a skillful cartographer throughout the journey. His first map was made during their 1804–05 winter's stay at Fort Mandan. He used the knowledge obtained from traders and natives to create a map of the upper Missouri and MISSISSIPPI rivers region. He also created a skillful map of the Great Falls of the Missouri with references to botanical features. This map would continue to be used by expeditionary forces years later.
By September 1806, after a successful completion of the expedition, Lewis and Clark returned to St. Louis with careful descriptions of newly discovered animals and plants. Overall, they had accumulated a complete and impressive journal of their experiences. Lewis wrote letters to Jefferson that spoke of a triumphant exploration and of the discovery of a navigable route across the continent, which included stretches of the Missouri and Columbia rivers. His letters spoke of the difficult conditions, but also of the profitable fur trade that was occurring and the abundant animals that occupied the area. Although a direct water route across the continent did not exist, Jefferson was extremely impressed with the exploration.
After returning to their families, Lewis and Clark traveled separately to Washington, D.C., to receive their pay and honors. Each received double pay for service, which amounted to $1,228, and a title to 1,600 acres of land. Lewis was named governor of the Territory of Upper Louisiana, and Clark was made brigadier general of militia and superintendent of Indian Affairs for the Territory of Upper Louisiana.
In 1808, Clark married Julia Hancock of Fincastle, Virginia, and became a business partner of the Missouri Fur Company. This company was to send militia, hunters, and boatsmen into the newly explored territory and to implement the fur trade. Lewis, however, did not thrive with similar success. His effort to get his and Clark's journals published proved unsuccessful; he had a couple of failed attempts at marriage; and his friendship with Jefferson floundered as he became more dependent on alcohol. By March 1808, Lewis finally traveled to St. Louis to work as governor.
By September 1809, after many problems in administering his duties with his constituents, Lewis left for Washington, D.C., to ask for help. However, his problems seemed too large, and Lewis committed suicide in a roadhouse along the Natchez Trace near Nashville, Tennessee. Upon hearing the news, Clark
traveled to Washington, D.C., to grieve with Lewis's family. Afterward, he traveled to Philadelphia, Pennsylvania, where he arranged for the rewriting of his and Lewis' journals. By 1814, the journals were finally published, with remarkable maps, but few of the explorer's scientific discoveries. Remarkably, the American public exhibited little interest in the journals, and few copies were sold. It was not until new editions in 1893 and 1904–05 that the journals finally became popular. In 1813, Clark was named governor of the Missouri Territory. He spent the remaining years of his life meeting and creating lasting friendships with Native Americans, traders, and trappers. Through these encounters, Clark was able to update his map of the West. In 1838, Clark died of natural causes.