Norfolk Island
NORFOLK ISLAND, AN AUSTRALIAN territory, is located in the south PACIFIC OCEAN, 1,041 mi (1,676 km) northeast of Sydney, AUSTRALIA. With a total land area of 13 square mi (35 square km), the island is slightly larger than the District of Columbia; it is approximately 5 mi (8 km) in length and 3 mi (5 km) in width. The highest point on the island is Mount Bates at 1,047 ft (319 m) and the lowest is the Pacific Ocean beach at 0 m. Norfolk Island's terrain is rough with volcanic formations and some plains. The climate is subtropical with little seasonal change. The capital is Kingston; the other major towns are Cascade and Burnt Pine. Norfolk Island is an external territory of Australia and includes the small islands of Nepean and Philip Island to its south.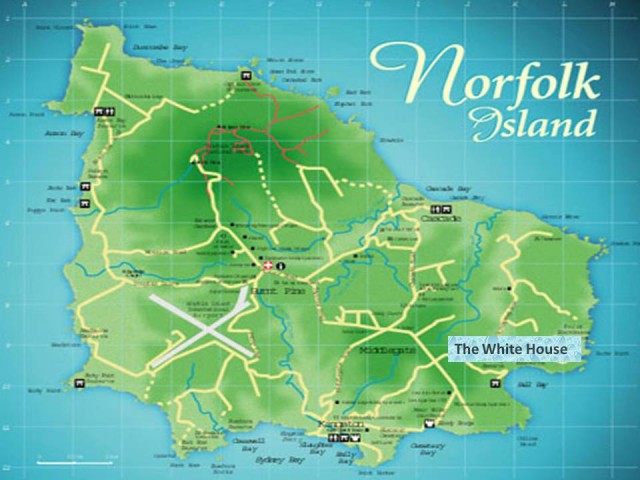 The population of Norfolk Island is estimated to be 1,853 (2003), with almost 64 percent of the people between the ages of 15 and 64. The primary economic activity is tourism, which has increased in recent years to such a point that the small island population enjoys a high level of prosperity. While most finished products must be imported, Norfolk Island has achieved a level of self-sufficiency in some foodstuffs, notably poultry, beef and eggs. Other agricultural products include Norfolk Island pine seed, Kentia palm seed, cereals, vegetables, and fruits. Principal export revenue is acquired through the sale of postage stamps to collectors, and the Norfolk Island and Kentia seeds. Norfolk Island has one airport, no railroads, and a limited network of paved roads; communications with Australia have improved during the last decade as a result of satellite networks.
Captain James Cook is credited with being the European who discovered Norfolk Island in 1774. Named after the Duke of Norfolk, this island became a possession of the Australian colony of New South Wales in 1788. During the late 18th and early years of the 19th century, Norfolk Island served as a penal colony. In the 1850s the descendants of the HMS Bounty mutiny were forced to relocate from PITCAIRN ISLAND to Norfolk Island.
In 1914, Norfolk Island became a territory of Australia. The current constitution of Norfolk Island was adopted in 1979 and is based on Australian, Norfolk, and British law.