Republic of Djibouti
POPULATION: 886,300 (2014)
AREA: 8,500 sq. mi. (22,000 sq. km)
LANGUAGES: French, Arabic (both official); Afar, Somali
NATIONAL CURRENCY: Djibouti Franc
PRINCIPAL RELIGIONS: Muslim 94%, Christian 6%
CITIES: Djibouti (capital), 383,000 (1999 est.); Ali Sabieth, Dikhil, Tadjoura, Obock
ANNUAL RAINFALL: Less than 5 in. (127 mm)
ECONOMY: GDP $1.582 billion (2014)
PRINCIPAL PRODUCTS AND EXPORTS:
Agricultural: goats, sheep, camels, cattle, coffee
Manufacturing: dairy products, mineral water bottling, port and maritime support, construction
Mining: salt extraction Economy is based mainly upon services and commerce.
GOVERNMENT: Independence from France, 1977. Parliamentary government limited to no more than 4 political parties. President elected by universal suffrage. Governing bodies: Assemblee Nationale; Council of Ministers (appointed by president).
HEADS OF STATE SINCE INDEPENDENCE:
1977–1999 President Hassan Gouled Aptidon
1999– President Ismail Omar Guellah
ARMED FORCES: 9,600 (1998 est.)
EDUCATION: Literacy rate 46%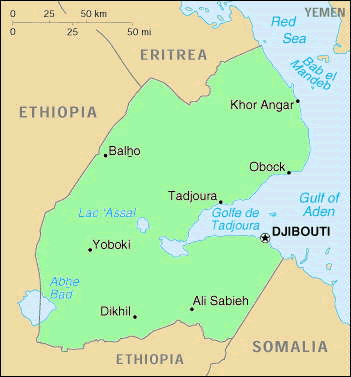 The tiny country of Djibouti is located at the southern entrance to the Red Sea. Although the landscape is mostly flat and barren, several mountain ranges cross the northern part of the country. The climate is extremely hot; during the dry season temperatures can reach 113°F.
Djibouti's economy is based mainly on its role as a trading center for goods traveling to and from Africa on the Red Sea and Indian Ocean. It has a modern port and a railroad connection to ADDIS ABABA, the capital of ETHIOPIA. Apart from these commercial activities, however, the economy is not strong. Because most of the land is not suited for agriculture, Djibouti depends on imported food. It has little industry and unemployment ranges from 40 to 70 percent. Furthermore, a flood of refugees from the war-torn nations of Ethiopia, ERITREA, and SOMALIA has strained Djibouti's resources and increased its need for foreign aid.
The main ethnic groups in Djibouti are the Issa of the south and the Afar of the north. Other peoples include ARABS, recent immigrants from northern Somalia, and French citizens who hold many key government posts. Most of the population lives in or near the city of Djibouti, the nation's capital and major port.
A former French colony, Djibouti became independent in 1977. For many years President Hassan Gouled Aptidon and his party ruled the country. Most of Gouled's support came from the Issa people, which led to discontent among the Afar. In 1991 an Afar guerrilla force of about 3,000 began a civil war against the Gouled regime. Gouled responded by holding multiparty elections for the presidency and legislature in 1992 and 1993. Charging that the election system was unfair, opponents of the government refused to participate. Nevertheless, Gouled and his party declared victory. Gouled then seized the opportunity to attack and crush the armed opposition. He continued to dominate Djibouti's politics and government until 1999, when his nephew, Ismail Omar Guellah, was elected president. (See also Climate, Colonialism in Africa, Trade, Transportation.)