Ascension Island
ASCENSION ISLAND IS an overseas territory that forms part of a single territorial grouping (with ST. HELENA and Tristan da Cunha) under the sovereignty of the British crown. Ascension is a small island, 35 square mi (90 square km), of volcanic origin between Africa and South America, just south of the equator. The capital is Georgetown.
Ascension is a rocky peak with 44 distinct craters, all dormant, with its base just west of the mid-Atlantic ridge. Much of the island is covered by basalt lava flows and cinder cones. The last major volcanic eruption took place about 600 years ago. The highest point (Green Mountain), at some 2,817 ft (858 m), is covered with lush vegetation, which with each rainy season is increasingly spreading throughout the island. The climate on Ascension Island is subtropical, with temperatures at sea level ranging from 68 to 88 degrees F (20 to 31 degrees C) and about 10 degrees F (6 degrees C) less on Green Mountain. Showers occur throughout the year, with slightly heavier rains in the January to April period.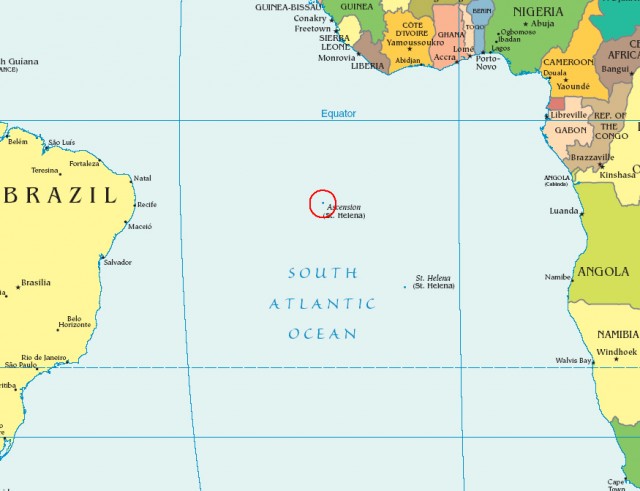 Ascension was discovered by the Portuguese in 1501, claimed by them on Ascension Day, 1503, and settled by the British dating from the 19th century. The island's economic importance (cattle, sheep, fish, turtles, etc.) was always superseded by the military role with its strategic position within the South Atlantic. The British first occupied the island as a strategic geographical base for their global naval interests in the emerging British Empire. Ascension received greater importance as a cable and later wireless station in the late 19th century. During World War II, the Americans used this British island to control naval activities in the South Atlantic. Ascension maintained this strategic military role during the Cold War and also assumed some new functions for the U.S. space program under the National Aeronautics and Space Administration (NASA).
The British renewed their interest in Ascension Island during, and ever since, the Falklands War in 1982. Its position halfway between Britain and the Falkland Islands made Ascension Island the much needed logistic center for the British military operations in the Southern Hemisphere. Most of the inhabitants (about 1,000 people) originate from St. Helena, 750 mi (1,207 km) to the southeast, but there is quite a number of British and U.S. military personnel as well. Ascension was politically dependent on St. Helena but has become more self-governed within the last decades. Fishing will probably remain the most important economic factor of the island, as tourism was always hampered by the remoteness of the territory and the large military presence.