Bouvet Island
BOUVET ISLAND, a territory of NORWAY, is known as one of the peri-Antarctic islands, small uninhabited rocks and volcanic islands that circle the frozen continent. It was discovered by Jean-Baptiste Charles Bouvet de Lozier, a lieutenant in the French East Indies Company, on New Year's Day, 1739, but not found again until nearly a century later. Located at one of the most remote spots on the globe, it has rarely been visited and little is known about its landscape. It has been administered by Norway since 1928, which designated it a nature reserve in 1971. Norway also maintains an automated meteorological station.
The island is located about 1,800 mi (2,900 km) north of ANTARCTICA. The island is volcanic and forms the southern terminus of the submarine Mid-Atlantic Ridge. Three volcanic peaks rim an ice-filled plateau (the Wilhelm II Plateau), which is the collapsed center of an older volcano.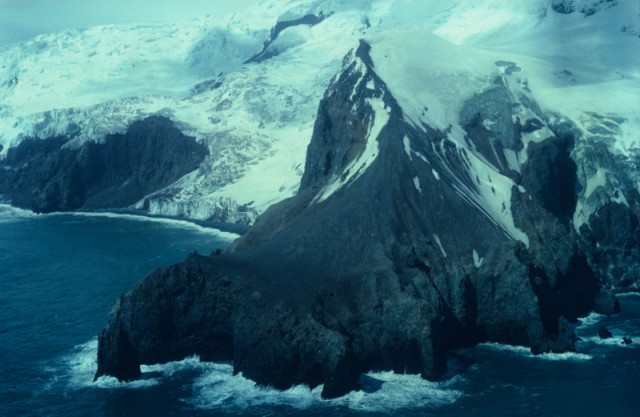 Two large
glaciers
descend from this plateau, sharply on the west, and more gradually on the east. Steep cliffs, up to 1,650 ft (500 m) high, encircle the island and add to its inaccessibility. Most of the island is covered with ice several hundred meters thick. Bouvet de Lozier had originally hoped to find a convenient provisioning spot for French trading vessels but was discouraged by the island's
climate
.
It was claimed by Britain in 1825 and renamed Liverpool Island. Whalers and seal hunters visited its waters, but this was never a huge industry since the island lies within the Antarctic convergence zone (unlike other islands of the South Atlantic or South Indian oceans) and is therefore trapped by sea ice for much of the year. Since the 1970s, there has been little human activity, with the exception of a mysterious nuclear bomb test to the northeast in 1979, which remains unclaimed (suspicions fell on South Africa).