Iceland
Area 39,769 square mi (103,000 square km)
Population 327,600 2014
Capital Reykjavik
Highest Point 6,950 ft (2,119 m)
Lowest Point 0 m
GDP $17.07 billion 2014
Primary Natural Resources hydropower, geothermal heat.
ICELAND IS A volcanic island lying on the Mid-Atlantic Rift 170 mi (280 km) southeast of GREENLAND and 500 mi (800 km) northwest of Scotland. Iceland is a mountainous country with an average elevation of 1,640 ft (500 m). Coastal lowlands (from sea level to 650 ft or 200 m elevation) ring the island and constitute one-quarter of its area. Most of the nation's population lives in the coastal lowlands, especially in the capital region. Glaciers cover 11 percent of Iceland, which includes Europe's largest, Vatnajokull, at 3,240 square mi (8,400 square km). Glacial activity and marine erosion have carved coastal fjords and numerous valleys in the landscape; deep fjords are the hallmark of northwest (West Fjords) and east (East Fjords) Iceland.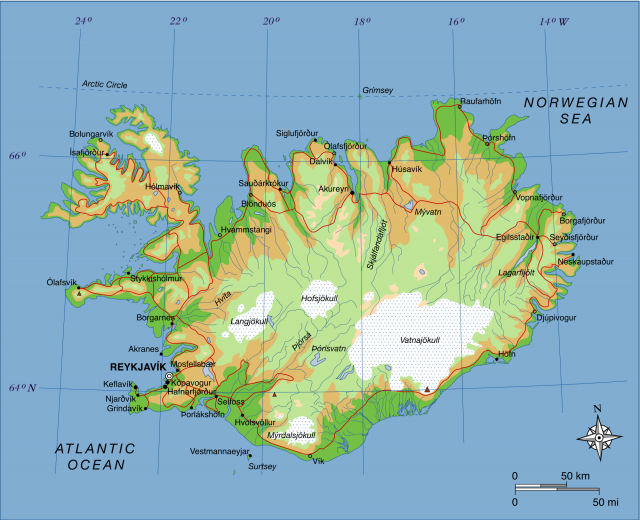 Despite its northerly latitude, Iceland has a maritime climate: cool summers and mild winters, owing to the moderating influence of the warm Irminger Current. Mean annual temperature ranges from 36 to 43 degrees F (2 to 6 degrees C) in the coastal lowlands and 37 to 39 degrees F (3 to 4 degrees C) in the mountainous interior. Reykjavik—the most northerly national capital in the world—experiences average temperatures of approximately 32 degrees F (0 degrees C) in January and 51 degrees F (10.6 degrees C) in July. Annual precipitation varies with local topography, particularly from rain shadows created by mountains and glaciers, and is typically greatest in fall and early winter. The highest annual precipitation (156 in or 400 cm) occurs in southeast Iceland on the Vatnajokull and Myrdalsjokull glaciers; the lowest (16 in or 40 cm) occurs in the volcanic desert north of Vatnajokull's rain shadow.
Rivers are numerous in Iceland because of abundant rainfall and glacial melt. The ?jorsa (143 mi or 230 km) and Jokulsa a Fjollum (128 mi or 206 km) are Iceland's longest rivers. Many rivers are being dammed for hydropower, which currently supplies 83 percent of Iceland's electricity. Waterfalls are common in Iceland's young volcanic landscapes, including Dettifoss (144 ft or 44 m), Europe's most powerful waterfall. Lakes are also numerous; some of the largest, ?ingvallavatn (32 square mi or 84 square km) and ?oisvatn (27 square mi or 70 square km), are of tectonic origin, while others are created by lava or ice dams or volcanic explosions. Volcanic activity has created an abundance of geothermal areas marked by hot springs, mudpots, and geysers. Nonpolluting geothermal energy supplies 89 percent of Iceland's heating needs.
Iceland's isolated locale has greatly influenced its biological diversity; flora is largely northern European in origin and includes 485 species of vascular plants, 560 species of bryophytes, and 550 species of lichens. Seventy-two species of birds are known to nest in Iceland; waterfowl and seabirds are prominent. The arctic fox (Alopex lagopus) is Iceland's only native land mammal.
A striking aspect of the Icelandic landscape is the lack of tall trees. Prior to Norse settlement in 874 C.E., dwarf birch woodland covered about 25 percent of Iceland, chiefly in the lowlands. Cutting of trees for fuel and housing and heavy grazing by sheep diminished the woodland area and limited regeneration. Today birch woodland covers only 1 percent of Iceland. Sixtythree percent of Iceland is poorly or nonvegetated and erosion of exposed volcanic soils is a national problem.