Ngorongoro Crater
LOCATED IN NORTHERN TANZANIA, 80 mi (129 km) west of the city of Arusha is the Ngorongoro Crater. This crater is a caldera formed by the collapse of a large volcano in the Great RIFT VALLEY. It is considered to be the largest subsidence crater in the world with a width of over 12.5 mi (20 km). It is the fifthlargest caldera in the world, and of these, it is the largest inactive, unbroken, unflooded caldera in the world. The rim varies between 7,480 ft (2,280 m) and 8,005 ft (2,440 m) in elevation, and the floor of the crater has an average depth of 2,000 ft (610 m) below the rim. The floor area of the crater covers 100 square mi (260 square km). The crater hosts several thousand tourists per year but has no actual human inhabitants at this time. No one seems to know the origin of the name Ngorongoro though the Maasia, a nomadic people living in the area, say it means "the great or big hole."
Besides the size of the crater itself, the crater floor has some unique features such as the Ngoitokitok springs that are a year-round hippo bath, two patches of woodland—the Lerai forest and the Laiyanai forest—the Munge River, several fresh and brackish ponds, and just west of the center of the crater, Lake Magadi. This lake is 20 mi (32 km) long and 2 mi (3.2 km) wide and exists thanks to the volcanic springs that feed it. These volcanic springs produce a large amount of carbonate of soda, creating a crust on the lake that is dredged and processed into soda ash to be used in glassmaking. Mainly though the crater floor is a wide grassy savanna.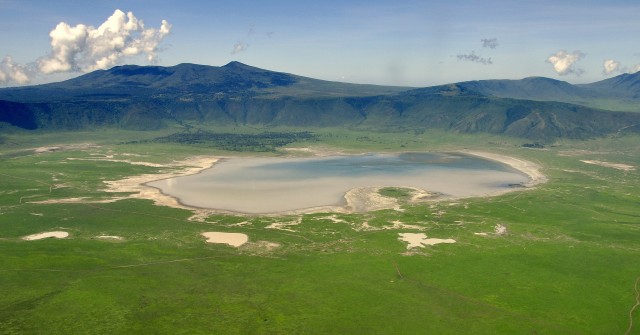 Ngorongoro is located at the center of the Ngorongoro Conservation Area, making up 3 percent of the area covered by the park. The Ngorongoro Conservation Area was established as a World Heritage site in 1979.
The park is home to approximately 25,000 large mammals, including gazelles, buffaloes, wildebeests, elands, elephants, and the black rhinos. It is also has the densest populations of predators out of any of the African parks, made up of lions, leopards, hyenas, and jackals. Lake Magadi and Munge River attract large numbers of greater and lesser flamingos, pelicans, ostriches, grebes, storks, cranes, and more. The first conservator of Ngorongoro, Henry Fosbrooke, considered the Ngorongoro Crater to be the eighth wonder of the world, and many tourists, after visiting, would agree with him.