Samarqand
SAMARQAND (SAMARKAND), the second-largest city in UZBEKISTAN, is known as the mirror of the world, the garden of the soul, the jewel of ISLAM, the pearl of the East, the center of the universe, and the city of famous shadows. In the Zerafshan Valley, with high snowcapped mountains of the Pamir–Altai mountain spurs on the northeast, it is an oasis on the edge of the Kyzyl Kum desert. The valley drew Paleolithic man 40,000 years ago, and the city site was first settled between 6000 B.C.E and 2000 B.C.E. Samarqand is as ancient as Rome and Babylon. As Maracanda, it was the capital of Sogdiana. Ethnically Iranian Tajik merchants of Sogdia plied their trade for centuries along the SILK ROAD.
Alexander the Great conquered Samarqand in 329 B.C.E. After that conquest, it became even more important as a trade center on the route between the MEDITERRANEAN SEA and CHINA. Conquest came again early in the 8th century C.E. when Arabs made it an important center of Muslim culture. In 1220, Genghis Khan and his Mongols nearly destroyed the city and many others in central Asia. The Mongol Tamerlane made it his imperial capital in 1369 and developed the city center that made it the nexus of the six points of his empire. As the empire declined into the 15th century, so did the city. Until its decline, it was the greatest Transoxianan city in numbers of people, and it led in commerce and culture because of the fertile farmland and the TRADE ROUTES that led west to Persia, south to INDIA, east to China, all meeting at Samarqand, a major city on the Silk Road.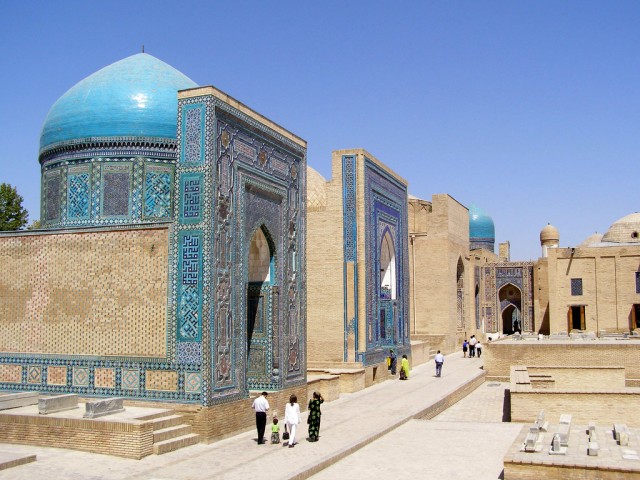 The emir of Bukhoro conquered Samarqand in 1784. RUSSIA took it in 1868 and in 1924 made it and Bukhara, the other Tajik center, part of Uzbekistan. It served as capital of the Uzbek Soviet Socialist Republic (SSR) between 1924 and 1930.
Because it lies in the irrigated valley of the Zeravshan River, the city supports the surrounding agricultural region. It also produces motor vehicle parts, fertilizers, wine, tea, and textiles. The oldest city in Central Asia, it contains an old quarter with mosques dating from the 14th and 15th centuries. In the city's center is Registan Square, which Tamerlane's grandson provided with three madrassahs, universities with mosques, surpassing Tamerlane's six points. It is the largest Tajik city and the major center of culture and industry for the region. Its 2000 population was 370,000.