Zagreb
ZAGREB IS THE capital of CROATIA, and it is emerging as one of the leading cities of the regeneration of the Balkan Peninsula. Although it is one of Europe's oldest cities, it also is one of Europe's newest capital cities, since Croatia gained independence from Yugoslavia in 1991.
With a population of nearly 900,000 people, Zagreb is much larger than any other city in Croatia and was the second-largest city in the former Yugoslavia. It is the center of most of Croatia's industry, as well as the country's political and intellectual capital. Over 20 theaters and 40 museums draw tourists from all over Central and South Europe. The city has two major components: the Upper Town and the Lower Town, connected by a funicular since the 19th century. The Upper Town (Gornji grad) is the original medieval nucleus of the city, also known as Gradec, surrounded by a 13th-century fortification wall.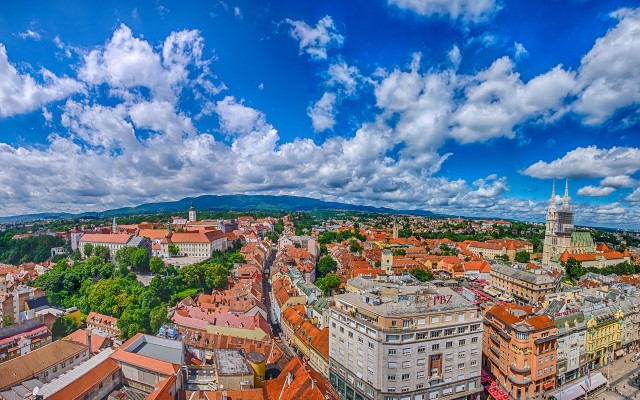 This part of Zagreb is dominated by Saint Mark's Church and the Banski dvori, the Ban's Halls (ban is the Slavic title for "regional governor"), a 17th-century palace that today serves as the center of Croatia's government. Even older than Gradec is the part of the city surrounding the cathedral that contains the city's main open markets, known as Kaptol. The Lower Town (Donji grad) contains the main city square, Trg bana Jelacica, and the city's other main squares, museums, and public buildings. The Lower Town also contains Croatia's most important art museum, the Mimara, and the National Theatre. Zagreb is located near the Sava River, about 230 mi (375 km) west of Belgrade. Originating at the crossroads of several TRADE ROUTES, Zagreb grew in importance from 1094 when it was named as the seat of the local bishop, and from 1242, when it was proclaimed a free royal city by the King of Hungary (a status exempting its residents from most taxation and military service). In 1557, it was formally declared the capital of Croatia, and a university was founded here. In much of this period the city was run by German burghers who settled here from Austria, and it was known by its German name, Agram. It was a primary military headquarters for Habsburg defenses against the OTTOMAN EMPIRE to the southeast, a fact reflected in much of the militaristic architecture of the city. Today, Zagreb is famous for its animated film productions and is home to the School of Animated Film and the International Festival of Animated Films.