David Douglas in North America and Hawaii
The Douglas fir (Pseudotsuga menziesii) is a magnificent tree that occurs naturally in western North America from British Columbia southward to northern Mexico. It can grow up to 330 feet (100 m) tall and is one of North America's most valuable sources of timber. The tree can occur in dense stands in forests, but it also makes a handsome ornamental tree wherever there is space for it. The following illustration shows a fine specimen growing in the open, where it can attain its full size.
The "Douglas" in its name refers to the Scottish botanical explorer David Douglas (1799–1834), who also gave his name to hundreds of other western plants. He described 50 species of trees, including the sugar pine (Pinus lambertiana), and more than 100 other plants, and he was responsible for introducing more than 250 species to Britain. Douglas was the first European who was not a fur trader to explore the interior of British Columbia.
The tree's specific name refers to another Scottish botanist and naval surgeon Archibald Menzies (1754–1842). It was Menzies who brought the Chile pine or monkey puzzle tree (Araucaria araucana) to Europe. While dining with the governor of Chile, seeds from this tree were served as dessert. Menzies managed to conceal a few in his pocket and later germinated them on board the ship on which he was serving, returning to England with five healthy plants.
David Douglas was born on June 25, 1799, in Scone, Perthshire, the son of a stonemason. He attended a school in nearby Kinnoull, but left at the age of 10. When he was 11, he was apprenticed to William Beattie, the head gardener at Scone Palace. Scone Palace was formerly where the kings of Scots were crowned, but in Douglas's time it was the home of the earl of Mansfield. Later, Douglas moved to the Valleyfield estate of Sir Robert Preston, where he was allowed access to the library and rose to the position of under-gardener. His next move was to Glasgow Botanic Gardens in 1820.
There, William Hooker, then professor of botany at Glasgow University, befriended him, taking him on botanical excursions and teaching him how to prepare herbarium specimens. Hooker recommended Douglas as a plant collector to the Royal Horticultural Society in London, and in 1823 the society sent him to collect plants in New York and eastern Canada. This trip was successful, and the following year the society sent Douglas to collect specimens in the Columbia River region of northwestern Canada. He sailed from London on the Hudson's Bay Company ship William and Ann in July 1824, rounded Cape Horn, and reached Fort Vancouver in April 1825.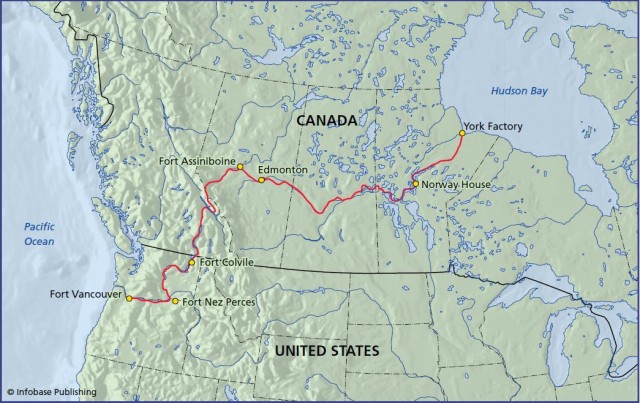 Douglas began collecting at once and spent the remainder of 1825 and all of 1826 exploring the mountains of northeastern Oregon. In March 1827, accompanied by a small party, Douglas headed for Hudson Bay on his way back to England. Following the Hudson's Bay Company's route known as the York Factory Express, they covered 2,600 miles (4,180 km), traveling by boat up the Columbia River, crossed the Rocky Mountains, and on July 28 they arrived at York Factory on the shore of the bay, where they embarked for England. The following map shows the route of the York Factory Express.
In October 1829 Douglas left England once more, arriving at the Columbia River the following June, and in October 1830 he entered California, where he remained until August 1833, collecting about 500 species of plants and also many mosses, which were of special interest to William Hooker. Douglas spent a short time in Oregon, and in October he sailed for Hawaii, which he was in the habit of visiting every winter collecting plants. He remained in Hawaii until July 1834, planning to return to England shortly, but he died on July 12. By that time his eyesight was failing, and he had already lost the sight of one eye. While walking along a well-marked path, he fell into a bull trap—a pit dug to catch a bull and covered over with vegetation to conceal it. The trap had already caught a bull. Douglas appeared to have fallen on top of the animal, and the bull killed him.