George Forrest, Collecting in Yunnan
George Forrest (1873–1932) was one of the most successful plant hunters of the early 20th century. He undertook seven major expeditions to western China and returned to the Royal Botanic Garden Edinburgh more than 30,000 specimens of 10,000 plant species, of which 1,200 were new to science. Forrest was also one of the most adventurous plant hunters and has been called "Scotland's Indiana Jones of the plant world." Many of the anemones, buddleias, asters, berberis, cotoneasters, and alliums now growing in private European and American gardens are descended from specimens Forrest collected, not to mention six species of rhododendron and more than 50 species of primula. Forrest was also a keen photographer. The illustration on page 99, from the Royal Botanic Garden Edinburgh, shows Forrest on one of his expeditions accompanied by his dog. The map on the next page shows the part of China where he worked. Forrest was born on March 13, 1873, in Falkirk, Scotland. He was educated at Kilmarnock Academy and after leaving school was apprenticed to a druggist who used herbal treatments. As part of his training, Forrest learned medical botany, the uses of therapeutic plants, and the preparation of herbarium specimens. In 1891 he inherited enough money to allow him to seek a more exciting life, and he sailed to Australia to join the gold rush. He spent 10 years there, panning for gold and learning to survive in harsh conditions, before returning to Scotland in 1902, breaking his journey in South Africa.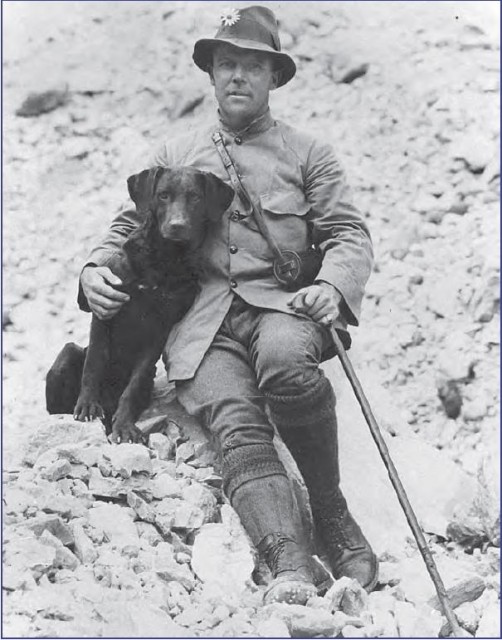 Back in Edinburgh, Forrest found a job as a clerk in the herbarium of the Royal Botanic Garden, where Sir Isaac Balfour was impressed by his abilities. Balfour recommended Forrest for a plant-hunting expedition in China that was being planned, and he was accepted.
Forrest arrived at the town of Dali in Yunnan Province in August 1904 and spent some time getting to know the people and their customs and attempting to learn their language. In the summer of 1905, he set off with a team of 17 collectors for the northwestern corner of Yunnan, in the mountains close to the Tibetan border. They entered the rhododendron forests and collected large numbers of specimens and seeds.
When they emerged from the forest, the political situation had deteriorated alarmingly. Warrior monks were torturing and killing foreigners and local people who had had any contact with foreigners. Forrest escaped, hiding by day and traveling by night, while parties of monks scoured the countryside in search of those they saw as offenders. Local people helped him hide, then helped him escape disguised in Tibetan dress.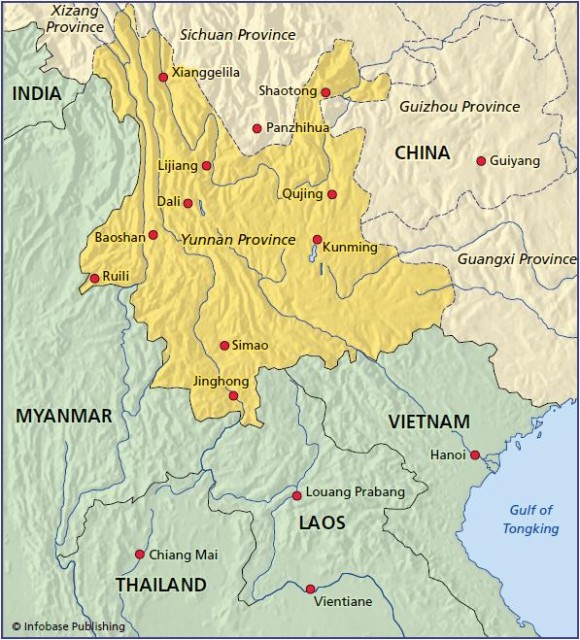 His ordeal did not prevent Forrest collecting. After a very brief time to recover, he continued his exploration in a different area, the valley of the Salween River (Nu Jiang), this time in the company of his friend George Litton, who was on the staff of the British consulate. They braved poisonous plants, clouds of biting insects, steep cliffs, and flimsy bridges spanning deep gorges. Not long after their return to Tengyueh in early January 1906, Litton died from malaria.
In March, Forrest set off again with a fresh team of collectors he had trained, this time to Lijiang in northern Yunnan. Now Forrest caught malaria and was forced to return to Dali, but his collectors continued working. In 1906 Forrest returned to Scotland with a huge collection of seeds, roots, tubers, plants, and herbarium specimens. The map of Yunnan opposite shows the region where Forrest worked.
Forrest returned to Yunnan six more times. His final expedition departed from Britain in 1930. Its purpose, he said, was to find all the plants that he had missed, and it did prove extremely productive. In January 1932 Forrest suffered a massive heart attack and died near the town of Tengyueh. He was buried on January 7 close to the grave of George Litton in the foreign cemetery outside the city of Tengyueh (now called Tengchong), to the west of Baoshan close to the Myanmar border.