Macau
MACAU IS LOCATED in the southern part of CHINA's Guangdong Province, near the tip of the peninsula formed by Pearl River on the east and Xinjiang River on the west. Macau is situated 37 mi (60 km) west of HONG KONG and comprises the Macau Peninsula and the islands of Taipa and Coloane.
Macau has mostly flat terrain resulting from land reclamation done over an extended stretch. However, Macau does have some steep hills as well. The climate of Macau is subtropical and is hot and humid for most of the year. The average year-round temperature is about 77 degrees F (25 degrees C); June to September is the hottest period, with temperatures exceeding 86 degrees F (30 degree C). Macau receives an average of 80 in (203 cm) of rainfall annually; typhoons hit Macau and adjoining areas with a high degree of frequency during the monsoon season.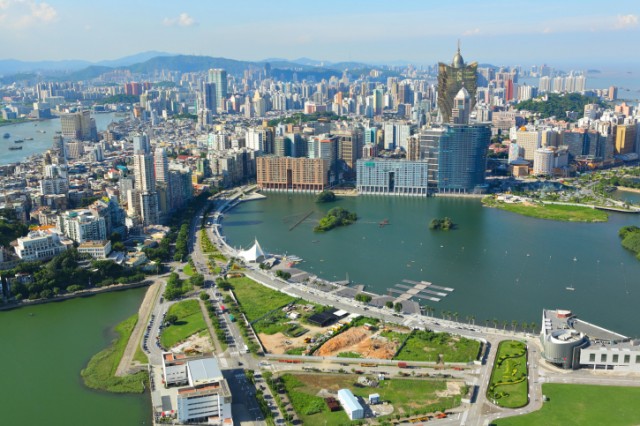 Macau was colonized by the Portuguese in the 16th century and was the first European settlement in East Asia. China and PORTUGAL signed an agreement on April 13, 1987, which made Macau a Special Administrative Region (SAR) of China, effective December 1999. In modern times, Macau has developed industries such as textiles, electricity, as well as a first-rate tourist industry with a wide assortment of hotels, resorts, and sports facilities. Macau's economy is closely linked to HONG KONG and Guangdong Province in the Delta region. Macau provides banking training, communication and transport facilities in Far East and Northeast Asia.
Chinese and Portuguese are the official languages in Macau. Cantonese, however, is most widely spoken. The official languages are used as link languages in government departments and in all official documents and communication sectors inside Macau. English is generally understood and is used in trade, tourism, and commerce. In terms of ethnic groups, Macau's population comprises Han Chinese at 95 percent; Portuguese, 3 percent; and other, 2 percent. Of those, 44 percent are born in Macau, 47 percent in China, and 9 percent elsewhere. Although the term Macanese is used to describe the citizens of Macau, the term also applies to biracial Chinese-Portuguese individuals, persons of exclusive Portuguese descent, and Chinese or mixed Chinese-Portuguese individuals who have been baptized and taken Portuguese names.
Macau has a high percentage of literacy: 90 percent of the population age 15 and above can read. Among males, 93 percent have achieved basic literacy, and among females, 86 percent are literate. Buddhism remains the most dominant religion in Macau, with over 45 percent of Macau's population subscribing to it. Roman Catholics represent 7 percent, Protestants 1 percent, and other religions (Hindu, Muslim, and other) 1.2 percent, whereas 45.8 percent of population has no official religious preference.
Textile and garment manufacturing are major industries in Macau accounting for 83.8 percent of principal domestic exports. Other major sectors are electricity, footwear and toys. Macau's industries have benefited a great deal from its close geographical proximity with China, which provides Macau basic raw materials. China, Hong Kong, and the EUROPEAN UNION rank among the top three countries in terms of Macau's principal import trade partners.
In the latter half of the 20th century, Macau's economy flourished with increased tourism. The tourismrelated service sector has provided an estimated 30 percent of labor force and has contributed approximately 50 percent gross national product to Macau's economy.