Cayman Islands
THE CAYMAN Islands are one of the UNITED KINGDOM few remaining colonies in the CARIBBEAN SEA. The group, lying roughly 150 mi (250 km) northwest of JAMAICA, consists of three main islands, Grand Cayman, Little Cayman, and Cayman Brac. They were first named Las Tortugas by Christopher Columbus in 1503 because of the abundance of turtles, and turtles remain one of the chief natural features of the islands. Later, the islands were named for their other large reptile residents, lagartos (alligators), then caymanas, the Carib word for "crocodile."
The islands are low-lying limestone formations, surrounded by coral reefs, providing habitat for abundant marine life. Because the soil is so dry and thin, the islands have never been able to grow much agriculturally, and there are no rivers or streams. The islands are the tops of a submarine mountain ridge that extends from BELIZE to CUBA. Parallel to the Cayman Ridge is the Cayman Trench, the deepest part of the Caribbean Sea—Bartlett Deep plunges over 18,000 ft (5,455 m). An abundance of healthy coral reefs draw numerous divers each year, particularly to the Bloody Bay Marine Park off of Little Cayman, one of the most diverse coral walls in the area. Cayman Brac and Little Cayman lie about 89 mi (144 km) northeast of Grand Cayman, and have a more varied topography, especially on Cayman Brac, with its high bluff, sheer cliffs, and caves. Grand Cayman is flatter and has a large, shallow reef-protected lagoon, the largest area of inland mangrove in the Caribbean. Almost all of the population lives on Grand Cayman. Little Cayman has almost no population but is home instead to nesting birds.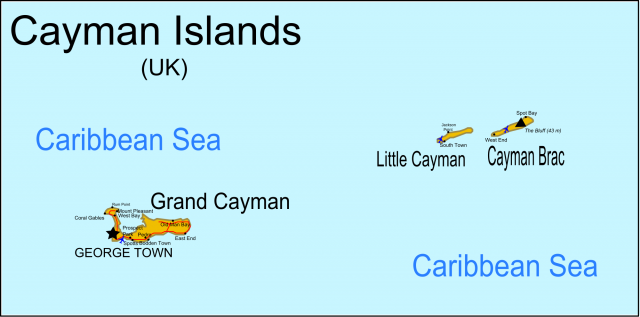 The Caymans formed part of the Spanish colony of Jamaica from the 16th century but were never settled and passed with Jamaica to the British crown in 1670. British presence was established mostly as a refueling station (for food and water provisioning), and the islands were administered as an appendage of Jamaica until that island's independence in 1962. Shark and turtle farming was the only economic activity until the development of tourism and finance in the later 20th century.
Today, the Cayman Islands are the fifth-largest offshore financial center in the world, employing most of its labor force and providing its residents with one of the highest standards of living and no direct taxation. In 1998 there were more than 40,000 companies registered in the Cayman Islands, including nearly 600 banks. Registration of ships and corporation brings in a large amount of government revenue. About 70 percent of the gross domestic product comes from tourism: More than 1.2 million visited in 1997, mostly from North America. A constant danger, however, lurks in the many Caribbean storms and hurricanes (cyclones)—Hurricane Gilbert, the most powerful storm recorded in the Western Hemisphere, hit the Caymans in 1988. A Category 5 storm, Gilbert's sustained winds of over 155 mi (249 km) an hour leveled nearly every structure on the islands.