How Does Air Quality Relate to Climate?
AIR POLLUTION consists of gases, liquids, and solids introduced into the atmosphere by human activities and deemed to be detrimental to humans and other creatures, plants, or other aspects of ecosystems. Most air pollution consists of noxious gases and liquids, car exhaust, and smoke and soot from industrial activities and fires.
What Is Air Pollution and What Are Its Causes?
Air pollution can be in the form of molecules of gas, tiny drops of liquids, or solid particles that are small enough to be lifted into the air. The table at the bottom of the page lists some common air pollutants.
1. Much air pollution is in the form of gases, many of which are invisible. Some gases combine with other chemical compounds to produce visible smog. Most gaseous air pollution consists of compounds of carbon, nitrogen, hydrogen, and oxygen.
2. Air pollution can also be tiny drops of liquid, including those in visible steam and more noxious liquids derived from sulfur dioxide (SO2) and other chemicals. Steam is white to gray, but other chemicals and particles in the mix can turn the steam brown or black.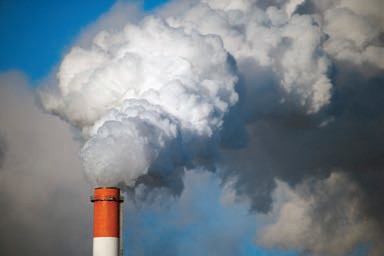 3. Air pollution can also consist of solid particles, including dust, whether it is from a dirt road or from the coal being hauled by this truck. Tiny drops of liquids and solids in the atmosphere are called aerosols, but not all aerosols are caused by human activities.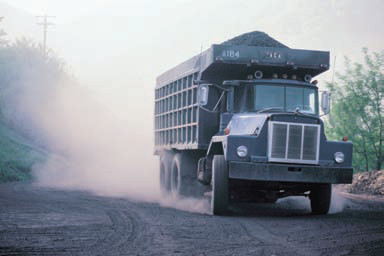 4. Air pollution, whether it is as a gas, liquid, or solid, can be introduced into the atmosphere in various ways. One major source of air pollution is from automobile exhaust.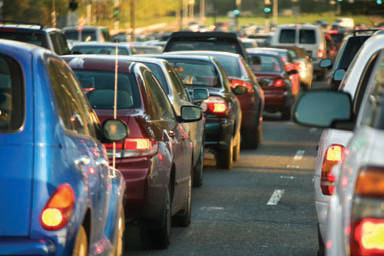 5. Large quantities of air pollution also arise from industrial activities, such as power-generating stations, factories, petroleum refineries, wastewater treatment plants, and mining.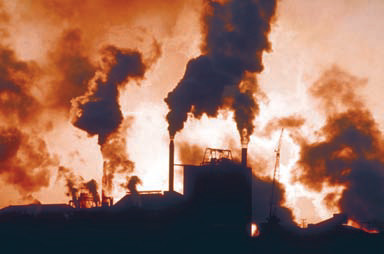 6. Less industrial human activities, such as burning forests and other vegetation, also introduce gases, especially carbon dioxide (CO2) and solid particulates, into the air.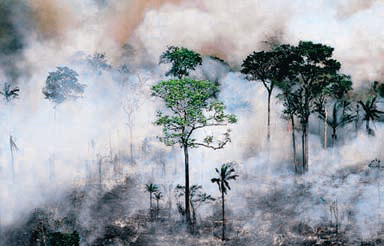 What Are Some Hazardous Pollutants?
family of atmospheric pollutants known as nitrogen oxides (NOx) includes NO2 (nitrites) and NO3 (nitrates). These pollutants can have numerous environmental and epidemiological consequences once they enter the atmosphere, precipitate, and run off from land surfaces. Automobile engines are the primary producers of NOx in the atmosphere. This map of NOx concentrations by county shows that the largest metropolises and the sprawling Sunbelt cities that grew during the automobile era have the highest concentrations.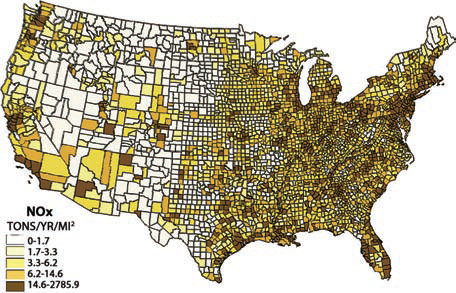 Sulfur dioxide (SO2) enters the atmosphere primarily through combustion of fossil fuels, particularly low-quality coal. SO2 causes respiratory infections and diseases, and it damages vegetation and crops. In the 1990s and earlier, the coal-burning industrial regions in the eastern U.S. had the highest SO2 concentrations in the country. Smaller red and orange spots in the Southwest, such as on the borders of Arizona, also mark the sites of coal-burning power plants, some of which have caused air pollution in the Grand Canyon and nearby parks.
What Factors Influence the Severity of Air Pollution?
Many aspects influence whether an area has relatively clear, pollution-free air or is heavily polluted. Air pollution starts with a source of pollution, but whether the pollution is dispersed (less concentrated but covering a larger area) or is concentrated, like in a single valley, depends on many topographic and atmospheric factors.
Source — Air pollution comes from some type of source. If it comes from a single, relatively localized site, such as from a single smokestack, it is a point source. If it comes from multiple sources it is a non-point source. How concentrated pollution is depends on whether it is a non-point or point source and how much pollution is actually emitted.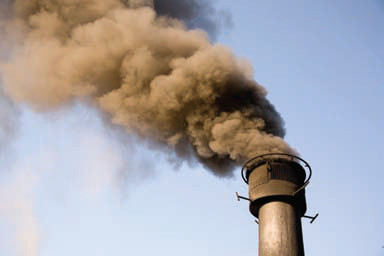 Atmospheric Conditions — Once air pollution is in the air, it is subject to various processes in the atmosphere, especially wind and vertical motion. Winds blow air pollution away from the source, perhaps clearing it from one side of a valley but concentrating it elsewhere. A lack of wind or stable, sinking air, like during a temperature inversion, can trap pollution close to the source and the ground.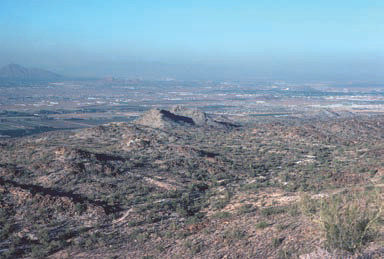 Topography — The shape of Earth's surface greatly influences winds close to the ground, so wind can trap or disperse air pollution. Shorelines can also influence pollution distribution, because water and land respond differently to heating, cooling, and winds. Los Angeles, California, has both of these influences — high mountains that trap polluted air in the basin, and a nearby shoreline with inland sea breezes.
The Clean Air Act
Federal air quality legislation in the U.S. began in the 1960s. Initial attempts culminated with the Clean Air Act of 1970, which required that the federal Environmental Protection Agency (EPA) be created, along with state-run EPAs (sometimes with different names) in each state. The EPA was to monitor certain widespread (i.e., "criteria") pollutants nationwide with the goal of keeping the concentration of each below a "threshold" level deemed hazardous. Criteria pollutants are a family of solid aerosols known as PM10, NO2, SO2, O3, lead (Pb), and carbon monoxide (CO). The Clean Air Act was subsequently amended many times, generally with stricter standards and heavier penalties to communities for violating these standards. As a result, air quality has generally improved in the U.S. in the last 50 years. But air quality in many other regions of the world has deteriorated.